Volleyball team proves capable of making it to playoffs
The 2018-2019 Ponies volleyball season has been "exciting!" according to Head Coach Bob Fischer and they show no signs of slowing down. The team is currently 19-6-0 in league and 8-0-0 in conference games, putting them first place in the Suburban East conference. Last year, the 2017-2018 team made it to state quarterfinals where they lost to Lakeville North.
Their hopes are high to make it back to the quarterfinals and hopefully move farther in the playoff bracket. Sophomore Lucy Zollar and senior Maddie Whittington, who are members of the all star team, have high hopes for this season and seasons to come.
The volleyball team has mostly dominated the court this season.
Zollar said, "Sometimes in a match we let the team come back and we should just shut them down from the start."
Whittington thinks the team is doing really well this year and is excited for the future, "Hopefully our section tournament will go well. We have our first game on Thursday night [Oct. 26] and hopefully that we will make it back to state and hopefully do better at state."
The team has been working hard and with consideration to last year, Whittington said there has been improvements.
"We're like more of a team now than we were last year. And we're working really hard on our chemistry and keeping it consistent throughout the season," said Whittington.
When asked about improvements for the team, Fischer said, "We have everything we need to achieve our goals… we work hard, have fun and play for each other.  Our level of success is directly connected to how well we dedicate ourselves to those principles."
The team is hopeful for years to come and wants to go back to the state playoffs again, according to Zollar.
Both girls have set goals and achieved some already for the coming year's of the team and their personal volleyball careers. Whittington will move on to play NCAA volleyball at the University of Illinois as a freshman next year.
"
We have everything we need to achieve our goals… we work hard, have fun and play for each other."
— Maddie Whittington
Zollar, who plans to play for the next two years, hopes to "play all the way around", and bring the team to state as she continues at Stillwater.
Fischer has coached at Stillwater for the past six seasons and said "[The season] is very similar to last year's team that went to state. We are talented, experienced and driven. Our players know their roles and execute them very well."
The rest of the season looks promising and the team is enjoying their time together according to Whittington, "It's just been a lot of fun, all of us getting to work together every day on off the court. It's been a good time for a lot of us."
The volleyball team has proved they are capable of making it far into the playoffs in the past and there is no doubt they will rule the court once again. The section tournament continued and Stillwater played Centennial on Oct. 29. Stillwater won against Centennial and now they face North Saint Paul if they win they will move onto state playoffs.
About the Contributors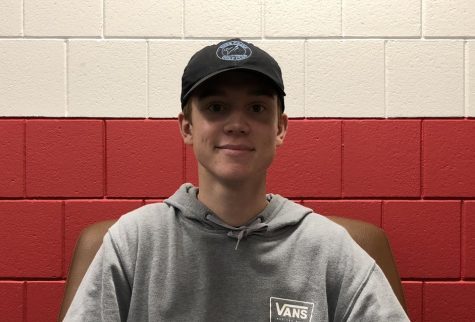 Chas Morgan, Layout Editor
Hi my name is Chas Morgan, I am a senior this year and I am the Spotlight Layout Editor! I am very interested in graphic design and I love photography....