Chevals gains new coach for upcoming season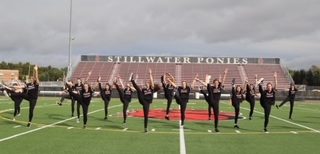 This fall has brought a lot of new things to students and teachers, from testing out fully in-person school weeks to new coaches. The Chevals Dance Team was in need of a new fall season coach and McKenzie Coyle stepped up for the challenge.
After the 2020-2021 coach went on maternity leave, the Chevals were on the look for a new coach. Coyle has been dancing since the age of three, doing studio dance and spending time on the Woodbury pom team. Why coach?
"I took the position of the Fall Head Coach because my two passions are dance and working with students," Coyle said.
She is currently studying early childhood education, combining her love for dance and her want to help students, she was the perfect option for the job.
Coyle has done nothing but build the team up and open doors leading to new experiences.
"Allowing us to be a part of more school wide activities," Zinda said when talking about when asked about the changes Coyle has made on Sept. 24 at the Homecoming halftime performance, the team danced with the Pony Mascot which is not a usual thing. Due to the crowds enjoyment at their first performance, the girls were thanked by the Pony Touchdown Club with roses and a warm thank you.
The team works hard creating routines on and off the field. From Friday night halftime dances to daily practice and warm-ups.
"I wouldn't necessarily say there have been a lot of changes to the team. There have just been rather small things, like how we do warm-ups for example, but nothing too big or crazy," senior Emerson Milby said.
"
"This team has so much potential and I love seeing all of the girls grow as dancers each day at practice."
— McKenzie Coyle
Routine is important in any work environment, Coyle has made sure things stay running smooth.
In 2017, the dance team performed with five girls, today the they have twenty-two girls. The team has never been this large, exposing dance to people that had never anticipated this to be how they spend their afternoons.
"I never thought my life would lead me to coach a high school dance team," Coyle said.
The dance team is an opportunity to branch out and meet people. Through new girls, the team has grown over four times the size. Allowing more coaches to land jobs, more titles as dancers and more students are having fun dancing.
Times have not been the easiest for anyone recently, and coach Coyle is taking mental health head on.
"They [Coyle] have been really understanding about mental health issues and have been wanting us to really get better at communicating with them about problems," freshman, Lainey Zinda said.
Mental health is extremely important and can be a struggle for many people. From talking openly about mental health to being empathetic, clean routines aren't the only priority this season.
Stepping in on a practice has made it apparent how much the team cares about one another. The Chevals are one large family and each practice is led with open arms. Catch their next halftime performance on Oct. 8.