Girls varsity tennis team builds for future
The girls varsity tennis team returned only one girl with past varsity experience.  Fourteen senior varsity tennis players graduated off of last year's team.  Twelve of the thirteen players are new to varsity tennis.  This has put the girls under a lot of pressure. While they are still getting used to each other and how well they play together, they are also learning what it means to be on varsity and learning how good the competition is.
"It's a completely different level of play. This year is just like you're seeing all this talent. It's a lot harder. " Junior Morgan Perkins said. 
Due to the inexperience, this year has mainly been a learning year. They have been learning what their competition is and how to step up their game and beat them.
"I feel like I'm just getting used to other playing styles so I can beat some of those girls next year." sophomore, and team captain, Karina Fischer said. They have been practicing and working towards improving their game. 
The girls have been showing their strengths on the court even though they are so new to varsity. They had a 6-1 win against Chisago Lakes early on in the season and a match that ended up being 7-0 a week later. "A lot of us don't have varsity experience. I'm proud of how we are doing." Sophomore Jazzy Kruse said.
They have been winning more games than losing and a lot of the games have come close. They have had their fair share of losses as well and struggled against certain teams. For example, they struggled against White Bear Lake, Mounds View and Eastridge.
In September, the team went to Hibbing and played against Pine City, who was one of their toughest opponents, but they reveled in the challenge.  Although, they are unfamiliar to their level of play, the girls have been really liked playing against them. "I've been playing a lot of really tough players. But it's been really fun to play people who are so good at the same time." Fischer said. There are multiple reasons for that. The most popular one is because of how into the game they are. Perkins said that Pine City was her favorite match so far because of how good they were and she had a lot of fun. 
As important as score is, so is team dynamic. Luckily for them, almost all of them were on JV together so they were not complete strangers and already somewhat knew each other. To create trust and friendships, they have been doing a lot of team bonding activities. "Our captains this year had way more team bonding activities. We really brought the JV team to do it too, so it wasn't just varsity." Perkins said.
Such activities include pasta feeds, a team sleepover, and going to Nelson's after practice. Throughout the season, they have established a good relationship. The girls are supportive and comfortable around each other. They have become good friends. 
As this season of learning comes to an end, there is one thing left. Later this year they will have their annual tennis banquet to celebrate the season with all of tennis: Varsity, JV, family, and friends. Everyone comes together to eat and toast to the season. Coaches and captains give speeches and players get rewarded. Even though the season is coming to an end, with the banquet on the schedule, it is bittersweet.
View Comments (1)
About the Writer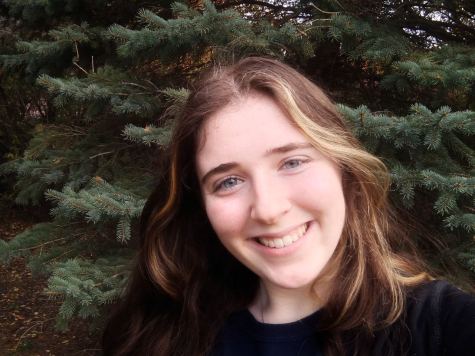 Maggie O'Brien, Layout Editor
Hi, my name is Maggie O'Brien! I am a sophomore and a Layout Editor for the newspaper. I love to play tennis, although I am not on the team. I also love...