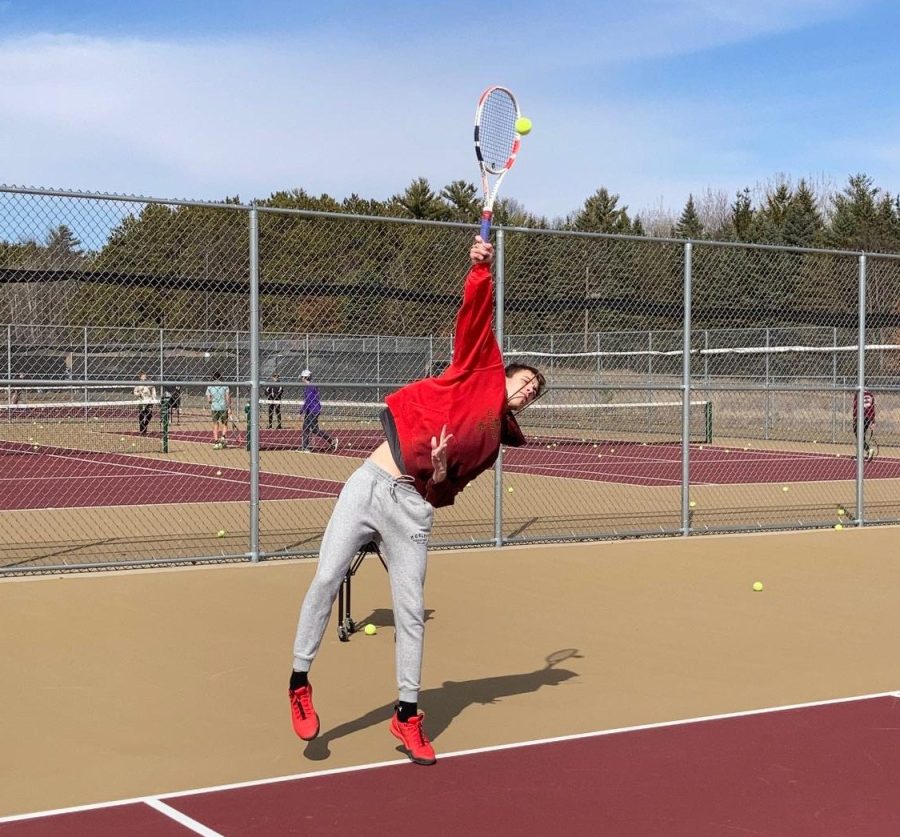 Photo submitted by Dylan Magistad
Boys tennis team returns with strong players
April 26, 2022
The boys tennis team starts their spring season with strong returning players. The coaching staff includes David Kahl, Bryce Ellefson and Jay Knutson. Their official season begins on March 28. Practices will take place five days a week from 2:45 to 4:45 p.m. This years team captains are seniors Dylan Magistad, Anthony Zilmer and Sam Spivey.
This season will be the team's first season back with no COVID-19 restrictions or complications. Most, if not all, limitations have been lifted. The team will still have to be prepared for any changes that occur at a moment's notice. Overall, the season should be a little more back to business as usual.
"As far as COVID restrictions and forth, much of that is kind of in the rearview mirror," Kahl said.
Along with no restrictions, the team has many strong players returning. Last year they did not lose many seniors and will have a lot of talent coming back.  There are a number of players who give the team some veteran experience for playing on the varsity squad. The team also has talented JV players who will be stepping up this season.
"This year is going to be a great team compared to the teams in the past. I believe that this is possibly the best team that I have been on in my five years with the program, so it is going to be a great season," Magistad said.
As for returning seniors, Magistad stands out. He is returning as the team's first singles player. Magistad has been on the varsity team since seventh grade. His talent is also gaining recognition from Bethel University. They have given him an offer to play for them next year, which he is "not sure if he will take or not."
Another factor for this season's hope for success is the team's chemistry. They are a fun, easygoing group of athletes that like to play and have fun together. They are all looking forward to getting back together with the team and having a lot of fun.
"I think we are all pretty good friends. We all like to hang out off the court as well as on the court," junior Brady Benning said.
All the players are looking forward to this season for many different reasons. Some are excited to just get back on the court and see all their teammates again. Others are excited to work together as a team towards a common goal. They all love to focus on getting better and encourage each other everyday to improve.
"I am looking forward to watching my teammates work hard around me to improve everyday, but still have fun while doing it," Magistad explained.
In the past, the team has consistently been in the upper division of our section, but has not quite made it to the top yet. Last year, the team lost in the section semi finals to Mounds View. There is a lot of strong competition in their conference but the team has high expectations to do some really good things.
"We have our work cut out for us, but I think that we can compete with most anybody out there," Kahl said.
Spectators for this year's team should have high expectations for their performance. The team will "play with a lot of enthusiasm and plan to have a real fun year."