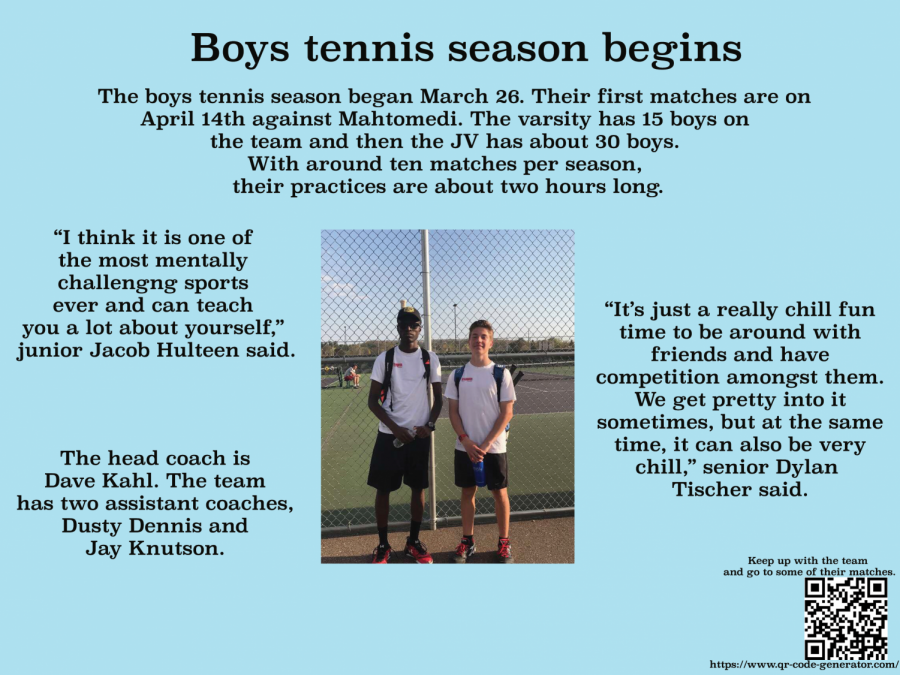 Boys tennis ready for run to state tournament
The boys tennis team is waiting in anticipation to finally practice alongside their coach and teammates for the first time in months. Throughout the winter, the boys have been individually practicing in facilities across the metro area. They are looking forward to playing together within their own facilities to begin the start to an incredible season.
The team had a successful season last year and are looking to grow and improve throughout this season. Although they have lost talented seniors, they have gained a lot of young talent and are beginning to see important upperclassmen improve and step into the much needed leadership role.
"As a team we did fairly well, but we didn't quite live up to our expectations, we didn't make section finals or state, so that was a bit of a dissapointment. However, we have many players who I expect to make huge improvements. We have a lot of younger players who have proven themselves throughout the offseason," senior captain Keyan Shayegan described.
Because of Minnesota High School Athletic Association rules, coach David Kahl is limited on the opportunities he has to work with the boys during the offseason. He is unable to train the boys throughout the school year leading up to the season. Therefore, offseason training is the responsibility of each player as an individual.
"Due to the high school state rules, there are limitations on the time that I can spend with the team, a lot of their training is done on their own, especially once the school year starts," Kahl said.
Senior captains Fred LeClair, Keyan Shayegan, Weston McGinley and Bode Akinshemoyin have set preseason goals for the team. Based on their success last season, they hope to improve and attend the state tournament as a team. This goal will require lots of hard work and diligence throughout the season, however it is in the realm of what they can accomplish.
"
If we make it to the section finals as we hope to, I am hopeful we can make it to state which is our largest goal."
— Weston McGinley
"Our main team goal is to return to the section finals, we qualified for the section final our freshman year. However, we have not returned since then. If we make it to the section finals as we hope to, I am hopeful we can make it to state which is our largest goal," McGinley said.
If the boys hope to accomplish their goal of competing in the state tournament, they must first win their section. The boys are involved in a difficult section and have many tough matches they will need to win in order to achieve this goal.
"Our most important matches are when we compete against other teams in our section, because that is what is going to determine the seeding for the section tournament. This will help us move towards our goal of state. Performing at the lower level of matches is very important and can lead to a successful season," Shayegan said.
State is a large goal for the team to accomplish, therefore they need all the support they can get from students and parents. There is a lot of pressure to perform well each match in order to meet their goal, and with the support of the community they hope to achieve all of their goals this season.
"The boys have high expectations for themselves, we will push them to perform their best and accomplish all of their goals. Stillwater has always very blessed with good support from parents and community members," Kahl added.
The state tournament is the team's largest competitive goal. However, the boys are most focused on a fun, enjoyable season for all athletes. They hope to inspire each other to be the best athlete they are capable of and to enjoy each practice and match.
"I am so glad to be captain; as a captain this year I hope to have a great season in all aspects. We hope everyone stays healthy throughout the season, plays safe and enjoys every moment the season has to offer our team," Akinshemoyin said.