Berlin Mossak auditions for Disney on Ice
"I want to do Disney on Ice because it's been my dream since I was little," junior Berlin Mossak said.
Disney on Ice is a touring ice show that performs all over the country. They go from state to state, performing different shows for each tour. They are currently having their audition process for next year's tours.
After high school, Mossak wants to continue skating. She wants to do Disney on Ice because it is a career path that she can follow while still doing the thing she loves. Even after Disney on Ice, she still wants to pursue skating by coaching others.
"It's a career path you can pursue with skating and to have something to show for all of your hard work and dedication," Mossak said.
After deciding that Disney on Ice is something that Mossak wants to pursue, she now has to follow through with the audition process. This year's auditions will be digital due to COVID still being a big risk for many people. Mossak needs to record a video of herself skating with additional requirements.
Mossak explained that she needs to record herself doing certain elements in her video, and after shooting she needs to edit it to look its best.
Another impact COVID had on Mossak is her inability to train. For about six months last year, Mossak was unable to train due to the pandemic. She also grew over the pandemic, so she had to adjust to her new height on skates and her new balance points.
Mossak said that after she was unable to skate for six months and that it was really hard to come back from for a normal skate season. After she got back on the ice, she had to relearn balance points and how to put herself in the air.
Mossak has been training ever since she was little. She has been skating for ten years, leaving her without much time left for anything else. She is currently in band playing the flute and also practices piano.
"I just think that figure skating is definitely super important to her for sure. And I think she doesn't have time for a lot of other hobbies," junior Iris Fuglie said.
After this winter, Mossak will hopefully be signed by Disney and pursue her dreams from childhood. Even though she thinks it is crazy that she is already here. She is excited to follow her dreams and skate her life away.
View Comments (3)
About the Contributor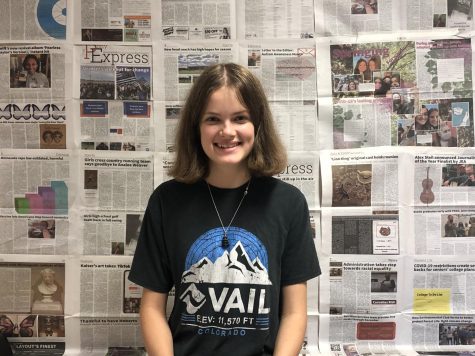 Isabelle Knighton, Layout Editor
I am Isabelle Knighton, a junior, and I am a layout editor for the Pony Express. I am in band and pep band, I also do technical theatre. I enjoy hanging...