Charlie Anderson steps up for his country
The phone rings, and just like that, Capt. Charlie Anderson of the U.S. Army National Guard has six hours to pack his bags. His unit of 400 soldiers is headed for the Hamid Karzai International Airport in Kabul, Afghanistan.
"I basically had all operational oversight, all the Minnesota guard soldiers that were there with our task force… it was chaotic," Anderson said.
While he was deployed, Anderson helped run the evacuation of the area for those looking to escape Taliban forces. He returned in late February, and immediately resumed his responsibilities within his community.
"He just does so many things that I felt like the year he was gone was really a loss for the community, because we didn't have that leadership," neighbor Annie Minich explained.
Anderson's passion for public service comes from his father, who served as a police officer for 33 years. He inspired Anderson to join the Army, where he served as an enlisted soldier from 1998 to 2006.
"That drive towards service, I don't know what it is about me I just feel like I am fulfilled the most when I'm trying to help other people," Anderson added.
After his enlisted service, Anderson received a Bachelor's degree in Law Enforcement from Metropolitan State University and a Master's in Public Safety Administration from Saint Mary's University of Minnesota. He now serves as a Police Commander for the City of St. Paul.
Anderson explained that to him, becoming a police officer was more than having a badge and carrying a gun, it was about being able to help people.
"
He just does so many things that I felt like the year he was gone was really a loss for the community, because we didn't have that leadership.
— Annie Minich
Through his police work, Anderson started a nonprofit coalition to dismantle organized crime and fraud affecting "grandmas and grandpas and their identities." The group brings together law enforcement, prosecutors and corporate financial investigators to address these issues.
Anderson understands "people are always in their worst moments when they call 911" and works to serve them with trust and respect.
Another way Anderson helps his community is through his work as a Marine City Council member. He has helped with various projects involving parks and recreation, public safety, town gatherings, and the introduction of a cell phone tower to provide better internet for residents.
"He brings a great depth of public safety knowledge and issues as they relate to the city," Marine Mayor Kevin Nyenhuis added.
Behind all the chaos of his numerous projects stand his wife and four kids, whom Anderson works hard to prioritize. He attributes their close bond to their faith, as they are active parishioners at Saint Michael's Catholic Church.
"Faith and family come first," Anderson explained, "Those kinds of things are non negotiable."
In all aspects of life, Anderson focuses on "keeping your priorities straight. When you're attracted to things like pleasure, wealth and honor. Those are the things that, as you get older, will take you down the wrong paths," he explained.
View Comments (2)
About the Contributor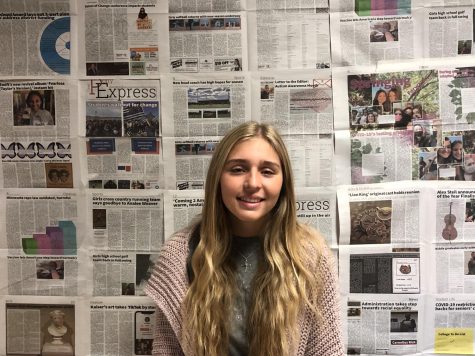 Abby Thibodeau, Layout Editor-in-Chief
My name is Abby Thibodeau and I am a layout editor in chief for the Pony Express. I am currently in 12th grade. I love snowboarding, hunting, trapshooting...