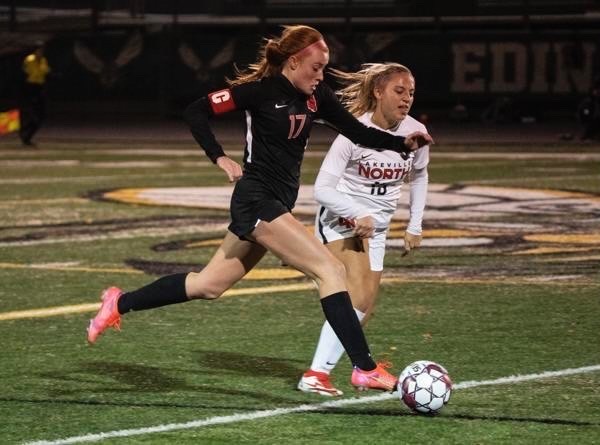 Photo submitted by CJ Fredkove
CJ Fredkove becomes a leader for young athletes
May 28, 2022
The sound of the roaring fans echo throughout U.S. Bank Stadium as the Ponies score against Centennial in the state final. All the work the team has put in, training and fighting, will make or break them in these last 90 minutes. After a long and hard-fought battle, captains CJ Fredkove, Hadley Johnson and Marisa Bonilla together hoist the state championship trophy that cements them as role models for young athletes in the Stillwater community for years to come.
"You are playing a lot of soccer and your legs are tired, and your body is tired and you just kind of do it for your teammates and, your coaches and the fans that have been with you since the beginning," senior CJ Fredkove said.
CJ Fredkove has had numerous academic and extracurricular successes this year. These successes, combined with a display of leadership and interpersonal skills have earned her a St. Paul Athena Award. The award aims to highlight one athlete from every school district in the East metro. This recognizes her as a top role model for the entire athletic and academic community.
The St. Paul Athena Awards began in 1995, as an extension of the already existing Minneapolis branch. St. Paul began with a relatively small number of school participants. Over the years the 20 members have grown to 48. The organization aims to recognize star female athletes and reward their display of leadership.
Fredkove stated the Athena Awards acknowledge female athletes' dedication to their sport and its community. She said she feels "super honored that Stillwater Schools picked her."
Fredkove began playing soccer when she was five years old. She currently plays on the highest level team for her club. Her numerous years on varsity combined with her leadership skills made her captain this year alongside seniors Hadley Johnson and Marisa Bonilla. Together they led the team to a state championship, defeating Centennial 1-0 in the final.
Fredkove explained she was glad they were able to have a state tournament this year and "the fact that we were able to pull off a state championship is just the cherry on top."
​
Fredkove is a multi-talented athlete, also specializing in alpine skiing. She has been on the top team since seventh grade. This year, the combined efforts of the entire ski team brought the ponies all the way to a second place finish in the state tournament. Many team members point out their outstanding performance as a team compared to how many thought they would do.
Senior Stella Cockson said the key to their success was tuning out the performances of their competitors and instead focusing their energy on what they could achieve.
Not only has she had outstanding performances in athletics this year, her academic performance has earned her a spot in the National Honor Society. NHS ensures that all its members uphold its four main principles: scholarship, service, leadership and character. To that extent, its members must be highly active in their community and frequently give back.
Fredkove explained why she enjoys NHS, "It's just fun to see all the volunteers that are there as well who are just trying to help out for the betterment of their community and get to know people who you normally would not have the chance to meet and interact with."
Fredkove is a senior representative for the Student Council. Among numerous other school events planned by Student Council, she has been especially involved in this year's snoball. This year's student council has had their hands full rebuilding the school community after students and teachers had little to no interaction with their peers during the 2020-2021 school year.
Fredkove stated she had to work to ensure not only that the snoball was a success, but also that younger student council members would be able to put together just as good of a dance next year when she will be gone.
Fredkove will continue her education at the University of St. Thomas. She will major in business and continue her soccer career there. She will officially begin her training as a Tommie in August, where their recent promotion to Division 1 sports is sure to bring competition to an even higher level.