Josie St. Martin travels to Sweden for hockey Junior Olympics
Sophomore Josie St Martin must balance the demands of being a world-class athlete and a high school sophomore.
"To have the best time of my life. Don't put too much pressure on myself. Just go out there and play your game," Josie said.
She has earned a spot on the International Ice Hockey Federation U18 Women's World Championship Team and will be traveling to Sweden to play on the Junior Olympics team. She is one of 23 girls in the nation to make the team, seven of whom are Minnesotans.
Josie has an unbelievably competitive personality and a love for winning. These traits have helped push her and have been a huge factor in her success.
"The biggest difference between her and the other players I think is that she hates losing more than she loves winning. I honestly think that is what it takes to be the top player at her age," Mira Jalosau, the girls varsity hockey coach, said.
Josie's teammates have provided a supportive environment that has helped her to thrive. Many of the sophomore girls are very like-minded and have grown up skating and training together. The team has always known her level of competitiveness and has accepted who she is.
"I have been super lucky and fortunate to have really good teammates that push me to be the best I can be and they're always super supportive," Josie said. "We have super good chemistry and I think that leads to good success."
Josie puts in time on and off the ice to train. For example, she will work on stick handling at home and often participates in strength and conditioning with private trainers.
"She's been really lucky she has received significant instruction on and off the ice. She trains at Altius. She's got a personal trainer there with off-ice things," Josie's mom, Kellei St Martin said.
Josie made significant social sacrifices because of hockey. Her commitment to the sport has been not only one of the main causes for her success, but it has also been challenging to miss out on normal high school events.
"I want her to be a kid," Kellei said. "I want her to have the Pony football games. I want her to have all of the normal things that come with being a teenager. Sometimes you know there is some frustration because she has specific training on nights that she'll miss something social."
Josie will travel to Sweden with six other Minnesotans. This speaks wonders to Minnesota's hockey program and keeps Josie and her family forever grateful for this opportunity.
Kellei said Minnesota is the premier state in the nation for hockey. She thinks it is so lucky to have the programming that we do because many other states do not have this amount of access to hockey. These seven girls will make up a huge percentage of the team.
Jalosau believes the key to Josie's success is her "internal passion to get better and willingness to go the extra mile." Josie will attend a training camp shortly after Christmas and will leave for Sweden from Jan. 8 to Jan. 15.
View Comments (12)
About the Contributor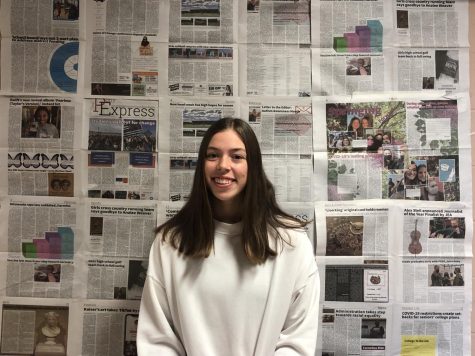 Lauren Guinee, Business Editor and Copy Editor
My name is Lauren Guinee and I am a junior. I am a business editor and copy editor for the Pony Express. I am on the synchronized swimming team and I also...