Jana Myers, Lizzie Holder advance to section finals
"My strengths are her weaknesses and my weaknesses are her strengths," senior tennis player Lizzie Holder said.
The girls tennis team wrapped up their 2021 season mid-October after the duo consisting of senior Jana Myers and Holder placed 3rd in section finals.The two started out the season not playing doubles but eventually decided that they wanted to use their skills to their fullest potential and work together as a team. Throughout the season, they grew not only as a team but as individuals while a new team maturity was displayed. The duo has a special bond that not only includes a strong friendship, but also teamwork.
"Playing singles would be harder," Myers explained, "Lizzie and I decided to team up in hopes of having a better chance of going."
Myers and Holder play so well together because of the fact that they complement each other in more ways than one. It is obvious when they play together that they work in a special way that no one else on the team does.
"We're very opposite of each other," Holder said. "She's really good at the net," Jana explained. "I'm really strong at baseline."
Determined is one of the many words to describe the two. They were determined to, no matter what play their best. They knew walking into the sections match that a level of confidence needed to be displayed.
Lizzie explained how she "was really nervous, but I knew I had to calm myself for Jana." Although nerves were circulating the two were also "excited more than anything to see what the possibilities were."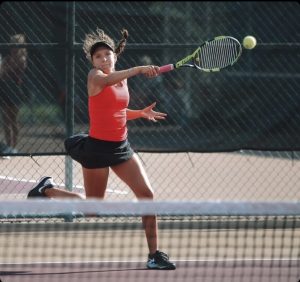 One of the reasons that the two play so great together is because they complement each other nicely.  Myers and Holder work so well together, the same answer was given every time. They both have what the other person is missing.
"Jana is a really strong player hitting groundstrokes and she can drive the ball nicely off the bounce," coach Dave Kahl said. "Lizzie is real athletic at the net and she does a nice job cutting across the net and poaching tennis balls and winning points that way."
While in previous years the team was made up of an array of all high school grades, this year it was made up predominantly of seniors with the exception of a few. Because of this, a new level of maturity was showed which allowed the team to work together in an easier way. Being surrounded by people their own age helped create a more in depth chemistry and team bond.
When asked about any changes in the team this year Lizzie said that they were "building chemistry I think this season, we were the closest as a team we've been so far."
As a result of COVID-19, many people have learned to not hold back and go for what they want. Nothing was going to stop these two from ending their high school tennis career with a bang. They explained how throughout the season the team was constantly supporting each other and always were keeping the energy at a positive level. They ended their career on a high note.
"It was definitely emotional to end it," Myers said when asked about her initial reaction to making it to the semi-finals.
Kahl explained how, "It's always exciting and rewarding for the girls to get recognized and to have that kind of individual success as well to just an added feather in their cap or a pat on the back for their effort and hard work."