Girls varsity tennis team goes to state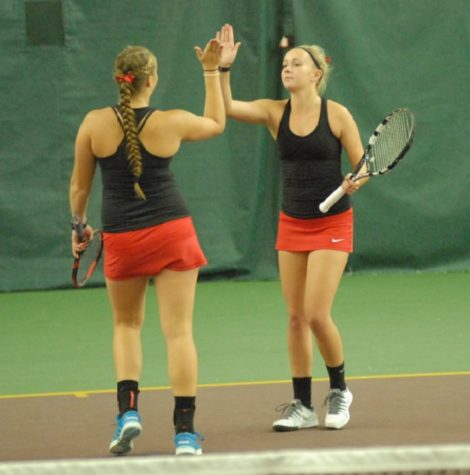 After working all season and playing in many grueling matches, it finally paid off after two seniors on the girls varsity tennis team make their way to the state tournament.
Seniors Savannah Johnson and Shelby Anderson took part in the state tournament held at the University of Minnesota, which had a wide range of teams competing at the Baseline Tennis Center. The two seniors were there playing as doubles against a lot of other girls from different schools around the state that qualified to go to the tournament. The girls tennis team had a unlucky finish of the season at their section tournament so the team as a whole did not qualify for the state tournament. Although the team did not make it, Johnson and Anderson as doubles were able to make their way into the state tournament.
Looking back on their season and how they finished it up with the teams loss at sections in the quarterfinals, Coach David Kahl had to say, "We could have played a different line up at sections, but all in all, it worked out well in the end and I am proud of my team."
The Stillwater girls tennis team lost in the quarter finals to the White Bear Lake team 4-3 and did not qualify for state as a team.
Though the team did not get to go as a whole, Johnson and Anderson went as doubles to state as they qualified with a second place finish in their section match.
"Savannah and Shelby are both seasoned players which makes my job pretty easy," Kahl said.
Johnson and Anderson played four matches in total at the state tournament.
"We had to play St. Cloud Tech, Wayzata, Bemidji, and Duluth East," Johnson said.
The girls played St.Cloud Tech in the tournament and lost the first set 6-2 and lost the second set 6-1.
"They stayed positive the whole time and picked each other up when it was needed," Kahl said. "They preformed very well and represented the team in a good way."
"
They preformed very well and represented the team in a good way."
— David Kahl
The players on the team relate a lot of their success to Kahl, as they say he is a great coach and mentor. "Our coach supported us all the way and was willing to give up his time to help everyone be a better tennis player," Johnson said.
"Coach Kahl has really helped me for the past 7 years and he has really helped all the others girls on the team too," Anderson said.
Kahl's inspiration towards his players helped them win the next two matches in the consolation tournament against Duluth East and Wayzata and brought them to the final round against Bemidji.
"Going into matches we wanted to win all of them, but we tried to be more focused on the way we would play in the match rather than playing to win," Anderson added.
Johnson and Anderson went on to lose the match in a tiebreaker against Bemidji.
"We just played as though it was another match. We knew if we got tense we wouldn't play as well," Johnson said.
They lost the first set 6-2 but won the second set 6-7. They went to play a third set that would determine the match winner. They had an unfortunate loss being defeated by the Bemidji team 10-2.
"Savannah and Shelby both had great seasons this year," Kahl said.
Even though they might not have finished as well as they would have liked, the Stillwater girls tennis team still had an amazing time taking part in such a professional team.
"It's such a nice group of girls," Kahl said, "We are going to miss our seniors, but we have got a new bunch of girls coming around the corner."
View Comments (1)