Reid Ballantyne's record breaks wrestling success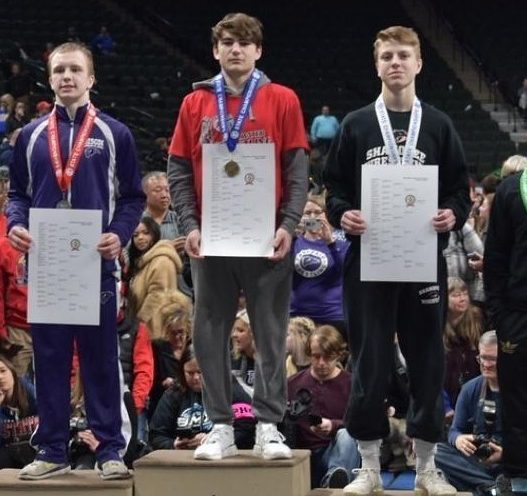 Junior Reid Ballantyne is a three time-state wrestling champion. Apart from being a champion, he also holds many records and is striving to earn more.
"I hate losing, so I am willing to do pretty much anything to win. Then I am just like you, I am a little crazy, I like to fight, so that always helps to know that I am not scared," Ballantyne said.
Ballantyne has wrestled since he was young. He is now going on to his thirteenth year as a team member.
"I have been wrestling since I was five, so I have been wrestling for pretty much my whole life," Ballantyne added.
Over the years, Ballantyne has been wrestling, he has worked towards being a leader. This year he is now one of the team captains and wants to be one in the coming years.
"He is a nice leader, he tells you what he wants done and done," junior  Andrew Rantila said.
Since wrestling takes up a lot of time Ballantyne has to find ways to manage his school work and other after school activities around practice and matches. However Ballantyne works hard to get things done for school while getting ready for every upcoming match.
"I have a really hard work ethic, if I want to do something I will get it done. That is how I have always been," Ballantyne said.
When Ballantyne gets ready for every match, he knows the team is there to cheer him on. For Ballantyne, the team means everything and Ballantyne means everything to the team.
"
I have a really hard work ethic, if I want to do something I will get it done. That is how I have always been"
— Reid Ballantyne
"I have seen Reid loose a couple of times, but I would never bet against him. He is one of the most fierce competitors I have seen at the high school level. If anyone beats him they will have to go through the toughest battle of their lives," coach Tim Hartung said.
Over the years, the team has grown and grown, right now the team is around 15 people. A new set of freshman join and seniors leave, but the team still does phenomenal every year.
"With the team we have this year I am really hoping that we win state as a team. Then we have the potential to get even three or four state championships as individuals, which would be really cool," Ballantyne said.
Finally, as the season continues, Ballantyne and the team fight to be their best and hope for a solid end to the season. However, Ballantyne is looking to win another championship and to grow as a wrestler.
"I really hope Reid wants to continue his career. I would love to see him win an NCAA title someday or maybe even two or three," Hartung said.
Ballantyne wants to keep up his career in wrestling. As the school year goes on, Ballantyne is looking forward to accomplishing new things with the team.
"Reid's success has helped every wrestler on our team realize that they can succeed at the highest level. We tell and show our youth wrestlers how Reid wrestles, how his aggressiveness, mentality, and mindset make him the champion that he is. We want our youth wrestlers, middle school wrestlers, and high school wrestlers to aspire to wrestle with the same approach to the sport as he does," Hartung said.