Wrestling team: pins a spot at State
Boys wrestling defends two year state title
For the first time in over 10 years, the varsity wrestling team has made it to State two years in a row. This year they plan to make it back to State, which would beat the all-time high school record of most years in a row making it to all state by winning the Section 4AAA championship. Both junior captain Trey Kruse and head coach Rich Keller feel they have good chances making it back to state this year. The wrestling season started on Nov. 19.
Two wrestlers from the varsity team placed last year in State. At the time, Kruse finished fourth place at 132 as a sophomore and sophomore Reid Ballantyne won State at 120 for his second State title as a freshman.
Ballantyne first dominated the 106 weight class in eighth grade when he won his first State title. One year later, he won his second title in the 120 weight class.
"I think my odds of winning state again this year are pretty good," Ballantyne said. Ballantyne feels confident in his chances at winning again this year, which would give him his third State title.
Although the team has no pre-game rituals, Keller believes his team does not need rituals and feels with hard work they will be able to very well this upcoming season. 
Ballantyne said, "We don't think we need a pre-game ritual, we just go out and try our hardest."
Wrestling is considered one of the oldest sports on earth. The sport allows athletes to play no matter their physical characteristics, gender, or race. This creates an unique aspect of the sport and can make wrestling more or less interesting to watch.
Junior Andy Constant said, "I feel like wrestling allows myself to compete alone, but at the same time be apart of a team which makes it a lot of fun."
"
I feel like wrestling allows myself to compete alone but at the same time be apart of a team which makes it a lot of fun."
— Andy Constant
The beginning of last year's season started off shaky with a record of 0-2, but quickly flipped after the varsity team won their next two. 
Kruse said, "Last year we had a slow start against some pretty good teams, but this year we're starting fast." Ballantyne added, "I think the team will do very good and we'll make State again."
With more than 20 wrestlers on the varsity team, five captains were picked to lead the team. Kruse is one of the five captains and has been since freshman year. Ballantyne felt he was lead by strong captains with good attitude and skill.
"They're good captains, all around good wrestlers, they know what they're doing, and have good leadership skills," Ballantyne said.
Both Kruse and Ballantyne agreed they first started to wrestle as young kids and will stick with it throughout high school.
Kruse said, "I started in preschool so I didn't have much of a choice, but my dad was in wrestling in his high school and figured his son would like to me to try it."
This year the team hopes to reach new levels of success, but to do so, the varsity wrestling team will need to work hard for the top spot in the section.
About the Contributor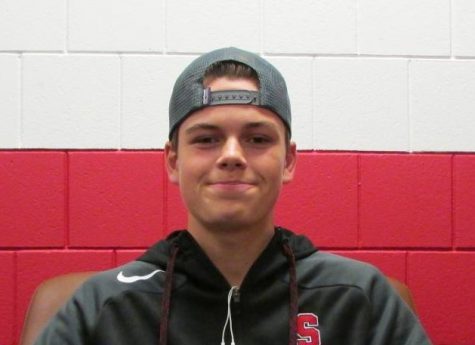 Zach Johnson, Social Media Editor
My name is Zach Johnson and I'm a sports media editor for the SAHS Pony Express newspaper. I play lacrosse and enjoy fishing and hunting. I'm most looking...