Hear him Kaul: teaching beyond blackboards
Among the monotonous halls that thousands of students shove through daily, some students stay nestled in a photo covered room, eating, socializing, or doing homework. The room always has someone in it, not because of the relaxing recliners or the ever-present snacks, but because social studies teacher of 32 years, Mike Kaul, has created a welcoming environment and close personal connection with countless students, where they learn more than just social studies.
Kaul has photos of himself with both current and past students pinned around his room, gifts from them piled on bookshelves and always has someone in the collaborative spaces next to his classroom, waiting for a chance to vent to him or just catch a break, sometimes long after the school day is over, or before the school day even begins. On multiple occasions he has even found kids on his front porch, looking for help with both school and personal problems.
More than an educator
"He's never alone. Even if he's walking in the hallway students see him and they change the directions to follow wherever he's going. He's funny and he's relatable and he's sometimes a little bit crude, but it's crude in the way that life is crude," senior Annabel Gregg said.
"
He's never alone. Even if he's walking in the hallway students see him and they change the directions to follow wherever he's going. He's funny and he's relatable and he's sometimes a little bit crude, but it's crude in the way that life is crude.
— Annabel Gregg
Kaul teaches AP Psychology and U.S. History, and connects his experience as a drug abuse counselor and a consultant at the Hazelden Betty Ford Foundation to relate to his AP Psychology class. He is widely known to be a fun teacher with sarcastic humor, but to many students, he is more than just a teacher.
"I think he's probably going to be the person from a high school that I miss the most. He was a great educator, and I really liked AP Psychology, but who he is as a person is something that I know I'm going to want to be a part of my life for the rest of my life. I know I'll come back here or I know I'll send him emails and check in because he's not just a teacher to me. He really does feel like this second dad. You can tell him anything," Gregg said.
Beyond the classroom
Senior Bryce Welsch was nominated for Homecoming King in the fall, and took the plastic crown home, but not before Welsch lassoed Kaul to the song Big Green Tractor by Jason Aldean, while in a big cardboard green tractor (which was later taped onto Kaul's podium). Welsch has built his relationship with Kaul over two years. He had two classes with him in his junior year, AP Psychology and U.S. History. In those years, Welsch has learned plenty from Kaul, not only in social studies, but beyond the classroom.
"I remember last year one of the things that he talked about was that people try to control things that they can't control. I think that's really help me apply it to real life. If you're going to try to do that you're going to create too much stress in your life. Sometimes things aren't going to be the way you want them to be and you just gotta let them happen," Welsch said.
With such a crowded side room, Kaul occasionally gets frustrated, but quickly recognizes it and takes a moment to realize his privilege in being the one many students turn to.
Personal acceptance
"I care about who you are and I care about you as a person and yeah, I'm here to do my very best job to teach psych or social studies or whatever curriculum…but that's just a small piece of it. I wish I had all kinds of time to just get know what's going on in your life. What's your family, what are your interests," Kaul said. "Your story is really important to me."
Kaul fondly recalls many stories of past students, many of which begin with a student who is struggling in both school and at home, but end in them being graduated, living their happiest lives. And, while it brings him much joy seeing these students flourish, he does not take credit for them or their successes.
"I consider myself somebody who accepts people for where they're at. I try as hard as I can not to be judgmental. I try not to be prejudicial and biased and all that kind of stuff, but I'm a human and I screw up a lot, but I try to just accept people wherever they're at. I try to treat them with the respect that they deserve. I learned this really early on, I never take credit for people's successes. You know, what you've done here is because the result of you," Kaul said. "I also don't take credit for your failures. I'm not the cause for you to struggle in my class. So I try to be encouraging and supportive, but I don't take on your stuff. That's yours."
Gregg and Welsch, as well as dozens of other students, look up to Kaul and from him have learned countless lessons about both the Civil War, the myelin sheath and life. He will continue to be a role model for students, though some seniors who he has connected with most will be leaving to college soon. Fortunately for them, they found their safe spaces in high school, as Kaul's room serves as a home for students who sometimes feel they have nowhere to turn.
"I just really appreciate the fact that it kind of feels like home and everything there is to share with others. I think that's a great thing to have. He just is always sharing," Gregg said. "He's real, and I think that people really appreciate that."
View Comments (12)
About the Writer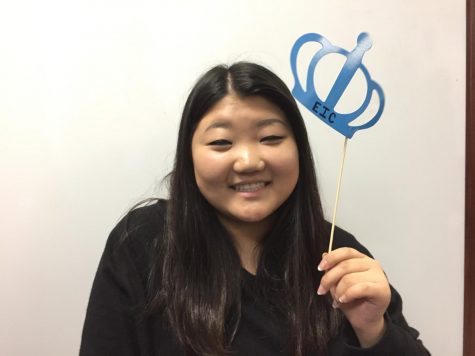 Mira LaNasa, Print Editor-In-Chief
Mira LaNasa is a senior and a Print Editor-in-Chief of the Pony Express who manages the photography department. She was born in South Korea and now lives...