French teacher Jackie Parr serves as role model
They say that to teach is to touch a life forever. French teacher Jackie Parr has spent the last 17 years of her life sowing seeds of knowledge into the lives of students across the world, with the goal of helping them discover what the world has to offer. Her efforts to enhance their experiences have not gone unnoticed by the students.
Seniors Katie Kelzenberg and Claire Summary, both in their fifth year of French, claim Parr as the person that they admire the most in the school. After having her as a mentor for three years, they have begun to look up to her as more than just a teacher.
"Just in general, she's the sweetest person I've ever met. She'll do anything to help you succeed," Summary said. "We refer to her as our mom because she'll just take care of you and do anything for you."
Though students often fail to realize it, Parr said they are just as much a part of teacher's lives as anyone, and she believes that her care for students goes beyond the classroom.
"It's hard to separate when I'm at home and when I'm with different people. I talk about my students like they're my kids, and I tend to think of them that way," Parr said.
Just as a parent would, Parr makes her best effort to understand what is going on in the lives of her students outside of French class.
"She gets to know you individually. She knows the sports you play, she knows how you're doing in your other classes," Summary said. "She cares about your entire well-being whereas some other teachers just care about that class and that grade like that's the only thing that's happening in the world."
Of course, Parr's students admire her work within French class as well. Her effort to not only teach the material, but to ensure that each student has an equal opportunity to understand it demonstrates a level of dedication to students that makes them feel valued.
"Even if one person in the class wasn't completely understanding, she would take the time to go help. I thought that was amazing and even how I would want to be seen… as super caring and compassionate and helpful," Summary said.
Parr's enthusiasm for learning about new languages and cultures is contagious, and like Kelzenberg and Summary, students further feed their passion through French Club on Thursdays after school. They do activities such as arts and crafts and they make food to explore French culture.
"It's nice because you get to meet new people," Kelzenberg explained. "When we do things like the shoe drive, it feels good to be helping others without any reward for yourself, you're just doing stuff for other people."
To other students, attending a language class is just another chore to complete in order to earn a graduation credit, but Parr makes it obvious that learning a new language opens new doors. Kelzenberg discovered that door may lead to a future calling.
"
People were talking about whether they were going to continue with French in college and I was like 'I'm majoring in it."
— Katie Kelzenberg
"People were talking about whether they were going to continue with French in college and I was like 'I'm majoring in it'," Kelzenberg said. The moment she told Parr of her future plans, "She told me 'I'll help you with whatever you need'. It was such a beautiful moment."
For Parr, shared moments like that are "…hard to put into words. It's always a bit of a surprise because it makes you realize that what you're doing on a daily basis really does make an impact on your students, on their lives, and how they see the world, so it's super meaningful."
She added, "She is going to be a great teacher."
Parr's lasting impression on students ranges from the material she taught in class, to how she connected with them individually.
Summary explained the way in which she will always remember how Parr made her feel. "It's not just like youre a face in the crowd. You're all individual people that she respects and cares about and knows. Especially in such a big school, I've never felt like just a number to her."
For Kelzenberg, the value of education and culture is what she will carry out of Parr's class.
"We all share this world and should acknowledge and understand each other," she explained. "If you can't communicate with everyone that puts a barrier between people, so if you can remove that language barrier it can make the world a better place."
What Parr hopes for the most is that students will move on from her classroom with a desire to discover the world around them.
"They've all acquired great language skills and I hope that they find places and ways in their lives that they'll be able to use them. Learning a second language opens doors and I hope they have some opportunities in the future that they wouldn't have had if they didn't have such great French skills," Parr said.
About the Writer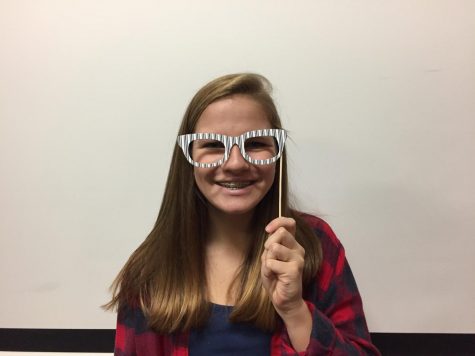 Mikayla Cousineau, Distribution Reporter
Mikayla Cousineau is a junior and a Distribution Reporter for the Pony Express and writes for the People and Focus department. Outside of newspaper, she...