Pratt, Scalia carry girls basketball team
Hang on for a minute...we're trying to find some more stories you might like.
As she dribbles the ball up the court, junior Sara Scalia scans the defense.  She's looking at the match ups and the positioning of her teammates.  Then she checks her own.
What she does next is unpredictable.
Scalia could dump the ball off to her teammate on the wing and cut towards the middle of the paint, leaving her teammate with the ball at the top of the key.  This enacts the Ponies offensive scheme, which is full of cuts toward the paint and screens in the corner, leaving someone open back up at the top of the key.  Usually it's Scalia, or freshman Alexis Pratt, who are both extremely skilled at dribbling and getting to the rim.  Pratt is a freshman guard who, despite being listed at only 5'3, is a hassle to deal with.  She's crafty and tenacious, and can get to the rim against anyone.
"It's just how I am," she said on her tenacious character.  "I just try to bring more energy on the floor and try to get the girls more into the game," Pratt said.
Back on the court, Scalia could, instead of running the offense, stop her movement just past half-court and pull-up from three at an ungodly distance.  Her range is so deep that it stuns anyone in the crowd.  Fans scoff went the shot is taken, and cheer when it goes in.
"Wherever I think I can make, I shoot it," Scalia said.
This type of offense drives the Ponies.  At 12-8 on the season with four wins in their last five games, they're on a roll.  A win at far-away Princeton kicked off the winning streak, where Scalia and Pratt 20 and 24 points, respectively.  Sophomore Grace Cote was 5-8 from the field that night.  Next was a home match versus Forest Lake.  The Ponies started slow, and the first half was filled with little mistakes.  After halftime though, Scalia got hot and poured in 39 points.  The game also featured Pratt scoring her 1,000th point of her young career.
It hasn't been sail smoothing all season though.  Before the four game win streak, the Ponies hung around .500 for most of the year.  The team picked up three win streaks and three game losing streaks in their first 13 games.
"We were trying to work out communication on defense and trying to be more of a team," Pratt said.  "Just trying to know each other skills-wise."
"
Wherever I think I can make, I shoot it."
— Sara Scalia
But with time and practice, things improved.
"As the season went on, we just started playing better as a team and our other players other than Alexis and I stepped up more," Scalia said.
When the Ponies lose, defense can be the reason why; the team's average margin of defeat this season is 9.9 points.  While the offense is a machine, the defense can tail off late in games.  The loss of sophomore Maddie Whittington, who tore her ACL this summer and missed the fall volleyball season as well, was a loss.  At 6'4, Whittington was an anchor for the Ponies defense.  Her rim protection solidified them down low, and her presence on the offensive end would have made a deadly offense even scarier.
"Our post defense is for sure something we need to work on," Scalia said, acknowledging that Whittington's loss made an impact, and that, even with recent success, the team is still practicing it.
For this year's team, it's evident that all it took was a little time.

About the Writer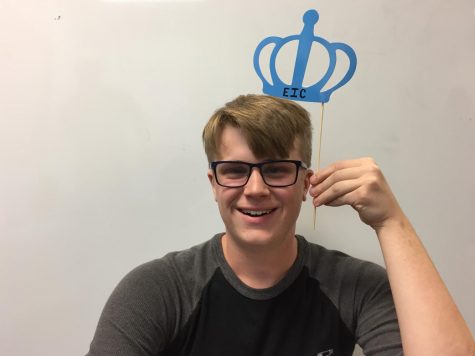 Hunter Hippel, Online Editor in Chief
Hunter Hippel is a senior and an Online Editor-in-Chief.  He also owns and operates his own sports blog, hippelsportshub.wordpress.com.  He has a great...