Choir shows dedication to singing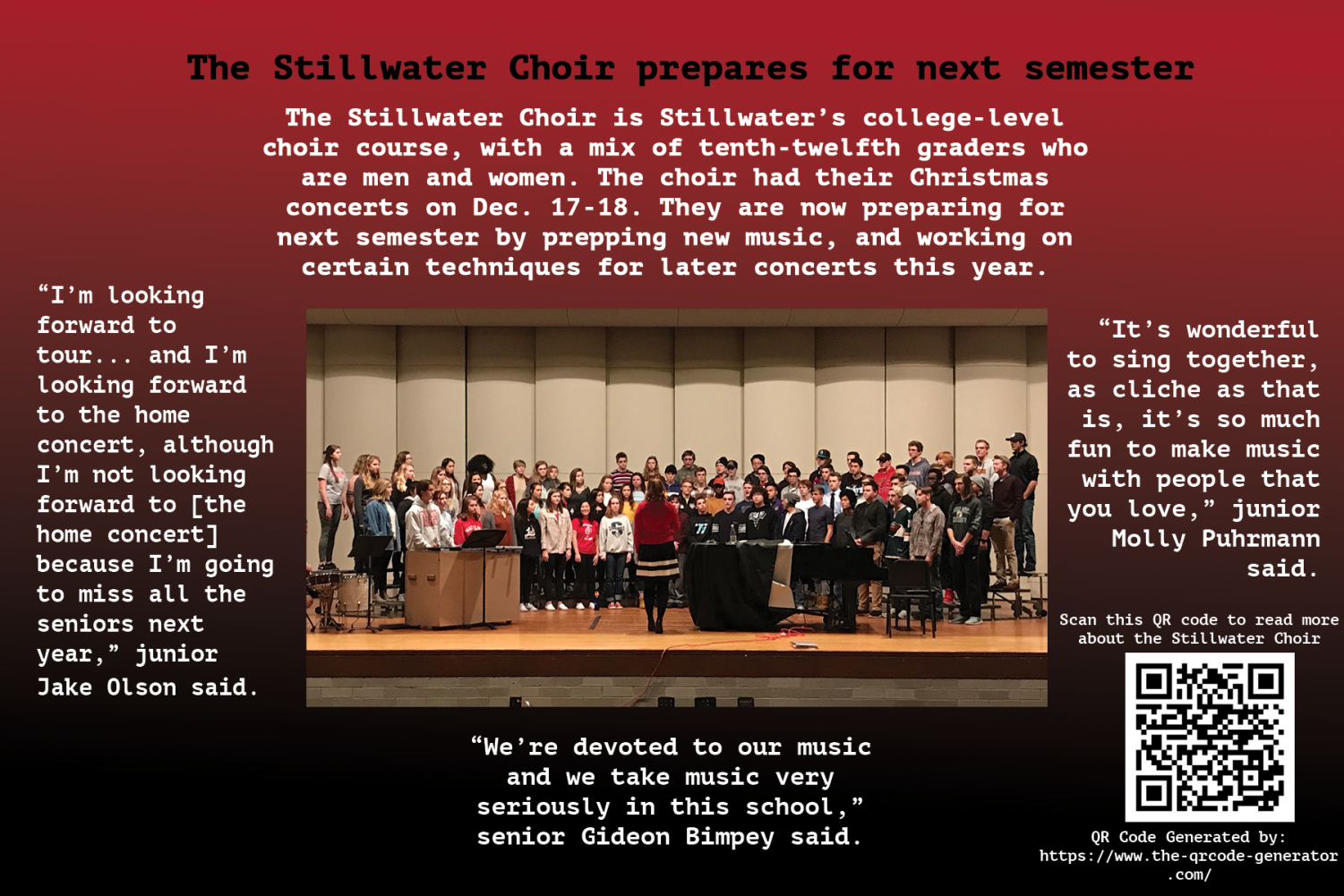 Sopranos, altos, tenors, baritones, and bass' are working hard to show their dedication to singing. The Stillwater Choir proves that they are more than just a choir. Not only do they have in class rehearsals, but they also have sectionals once a week at 7 a.m. Though many hate to wake up early, these students do not mind doing it for their passion.
Last year, choir director Angela Mitchell, switched from conducting Belle Chanter to taking over for Erik Christiansen who retired after the 2016 school year. Taking over a choir that had such a tight bond between conductor and singers is a difficult transition.
Mitchell was intimidated at first to take over. "The most nerve racking thing was how can I continue the tradition and the pride that they have, but bring my own personality to it," Mitchell said. Though, she still felt as if she knew the students from already working with Christiansen for many years.
"
The most nerve racking thing was how can I continue the tradition and the pride that they have, but bring my own personality to it."
— Angela Mitchell
Mitchell, who has done women's repertoire for 20 years, has picked a variety of music that has a completely different feel than Christiansen. "He [Christiansen] sang very traditional music, we kind of had the same order and Mrs. Mitchell's had more of an upbeat personality and the music, it has a lot more variety," senior Elise Luoma said.
This year's winter concert showed the variety of music conducted by Mitchell. "Beati" which is a slower, Latin text song, "O Magnum Mysterium" which is also Latin, but a Christmas hymn, "Praise to the Lord" is English text about God himself, and lastly "Gaudete" which is of Latin text that is a Christmas carol.

It is said that when a group of people sing together their hearts beat to the same rhythm. This can bring people to feel more liking to others. Same has to do with the annual choir tour. Over the years, Stillwater choirs have travelled all over the United States. Last year, Concert travel just to Virginia, Bemidji and Brainerd, Minn. The Trip was called "Minnesota Triangle Tour."
A majority of the students who have ever gone on choir trips always regret not meeting people earlier and that they create so many friends by the end. This year they will be going to New York City. Though it is a costly trip, many are excited and ready to go.
Mya Lynse, Fotini Kloos, and Judi Johnson
"[I'm] totally pumped [about going to New York] I'm excited to go to Broadway. I'm excited to sing in another state. I'm excited to fly somewhere instead of a coach bus," sophomore Madeline Haase said.
This choir can offer relationships through the power of music and emotion. Choir can bring people together just by one single note.
"It's a really amazing thing that we do. That we start from nothing, like a piece of paper with back dots and every day discover problems, and solutions until you get the this moment where you're in front of an audience and are sharing this emotional connection to the music and each other and all of the battle you went through to get there and it's that moment in time where you just make music," Mitchell said.
About the Writer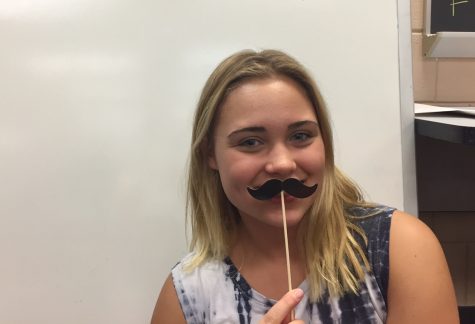 Madison Weispfenning, Editorial Cartoonist
Madison Weispfenning, junior, is a layout editor and writes for the arts and entertainment department. In her free time, she enjoy doing crossfit and is...