Boys basketball starts off behind, looking to improve
Emmanuel Karma and Kayla Gjerde
The boys basketball  team has been off to a rocky start this season, although things are looking positive for the future of the team.
Last year, the team didn't do as well as they had hoped to; the depth in talent wasn't where it needed to be.
This year is a different story, with an unfortunate ending of the season in sections last year against Tartan, the team is looking to go past that and see how far they can go.
Led by the new coach Brady Hannigan with his first season as a head coach for this team everyone is curious to see what he will do.
Hannigan is the newest and probably most important addition to this young and growing team.
Sophomore Cooper Yeary is excited for what he will bring to the table. "I think he's a great coach. I have a lot of respect for him and I'm excited for what he has in store for the team," Yeary said.
With a 13-12 record last season, the team lost some seniors from the previous starting rotation. Junior Devante Hatcher doesn't think these losses will be a negative thing for the team. They are looking to improve from that record and maybe go farther into sections this year.
"The main goal for this team is to do well in the regular season and go win some games in the playoffs.  If we do that I think we can walk away happy," Hatcher said.
Losing players is not always a bad thing, it gives some younger and new guys a chance, which gives the team some new strengths to help them out for the season. The team is working toward improving those strengths, so on game days they are ready to compete.
Senior Lucas Braun believes this is how this team needs to go about things this season. "We are pretty young but I think we are a faster team than a lot of the teams we have to face this season," Braun said.
With some big name competitors in their conference they will have to be ready for some fierce competition. Getting beyond that 13-12 record again will not come easy and they know it.
"A big game for us will be the Cretin game. That's a game the whole team wants to win. Also, Woodbury. They're one of the better teams in our conference and one of our biggest rivals so it'd be big for us to win those games," Yeary said.
Every solid team has some key players that are crucial to getting the job done. There are a couple names to keep in mind while watching a game.
"Manny Jingco provides a lot of scoring for us, Joe haggard and Devontae Hatcher play a big role on the boards, and Garrett Cocoran is a solid shooter from the outside," Braun said.
These boys are on a mission to have a successful year like every year, but maybe they can get some more people interested from some big wins early on in the season.
"It's always fun to get a home win with a big student section, after a game like that it's really easy to get on a role," Hatcher said.
About the Writer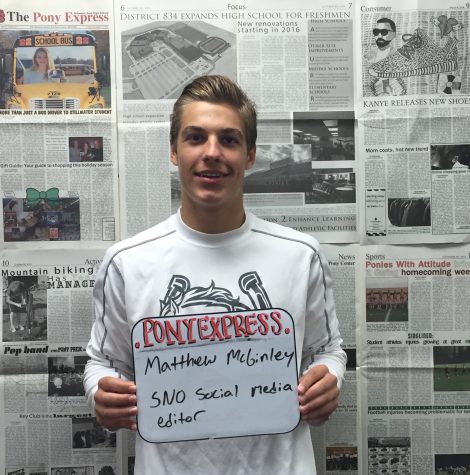 Matthew McGinley, SNO Social Media Editor
Matthew McGinley is a junior at Stillwater area high school. He went to Stillwater Jr. High. He is involved in hockey, baseball, and football. He is a...