Young girls basketball squad ready for season
One year older and one year stronger, the girls basketball team is looking to have an impressive year with their young core back again this year.
The Ponies only have four seniors in Emily White, Camryn Davis, Emma Murphy and Claire Patterson. Most of their players are freshmen, juniors or sophomores. Sophomores Sara Scalia, Megan Lampright, Taylor Brady, Torri Chute, and Payton Bruggers all have varsity spots and will be depended on this season. Juniors Rachel Houle and Elizabeth Ogren will also play an important role in this team's success. Also freshmen Mary Fultz and Maddie Whittington will be great additions.
Last year, they had a record of 9-17.  This season, they are hoping to improve on this and make it farther than they did last year.
Going 9-17 in most situations is not very desirable, but in this case it just shows youth.  One of the Ponies star players, Sara Scalia, is only a sophomore and seems to have taken a major role on this team.
Brady says of Scalia, "Sara Scalia is a key factor in our team's wins based on her shooting and her intensity on both ends of the court."
It is always great when such a young player can lead a team. In basketball this has become more of a common trend. Young stars emerge and can take over a team for years to come. This gives a team a strong base around a player who will be in the program for a long time. Scalia is not the only leader of this team. Brady says senior leadership will be very important.
Brady said, "I think our senior leaders, Emily White, Emma Murphy, and Claire Patterson, create a really great environment for our whole team to be a family." Senior leadership can shape a young team and help them grow as a whole.
Each year the team changes. With the changes on the court come changes off the court, a consistent theme in this years team is family. They have grown so close and that will show up on the court. In many sports, chemistry doesn't play a huge role, in basketball it is huge. If they are on the same page off the court, they will most likely be on the same page when on the court.
"
We are like a family. We win and lose together and encourage one another to push ourselves harder than we think we can because being successful in a sport doesn't come easy."
— Megan Lampright
Lampright said, "Our team's strong suit is the friendship that we have with one another. All of the years I have played for Stillwater girls basketball I have never felt this close to any of the girls until this season. We are like a family. We win and lose together and encourage one another to push ourselves harder than we think we can because being successful in a sport doesn't come easy."
This is certainly a motivated team that wants to build off of last year. When a young core moves on throughout their career, more success will come. The older kids from other teams come and go and the young stars begin to take more control over the game.
This team has its sights set on sections. They want to go deeper in the section tournament that qualifies one team per section for the state tournament. The Ponies are certainly eyeing their record as they will most likely surpass it but they stay humble and work hard for it.
This team is full of youth but that won't be holding them back. Their young talent like Scalia, Brady, Bruggers,  Lampright and more will play a major role this season. This team is young and talented, which is a dangerous mixture for the rest of the SEC Conference.
It is always hard to predict what will happen each season, but Brady and her team have a common goal.
Brady said, "I think we will improve our record from last year and possibly get farther in sections."
About the Writer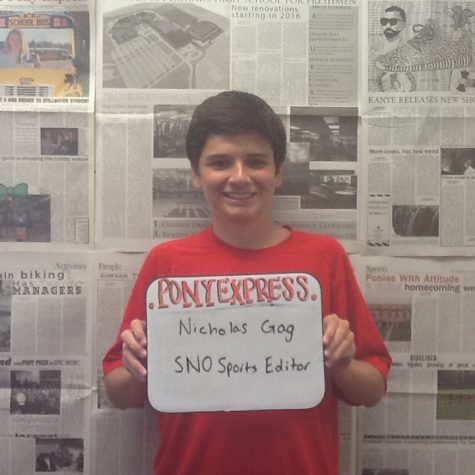 Nicholas Gag, SNO Sports
Nick Gag is a junior and loves to play sports. He also enjoys spending time with family and friends. He loves to watch all sports but mostly basketball.