Josiah Hill makes a run for State Senate, District 39
English teacher Josiah Hill started his campaign for State Senate Jan. 31.  Hill will run for the District 39 seat currently held by Karin Housley, who has held the position since 2012.
Hill, who currently teaches English and serves at the St. Croix Education Association Union President, wants to improve the lives of community members.  He will do this with four ideas at the center of his campaign: equal opportunity for all, readily accessible healthcare, support for the environment and greater funding to public schools.  He does not think of himself as a Republican or a Democrat, but as a moderate.
"I perceive myself to be a bit of an environmentalist," Hill said.  "I want to make sure my great grandchildren have the same opportunity to enjoy our lakes, rivers and our forests here."
Rachel Steil, English teacher and campaign manager, said, "Josiah has proven himself as an effective leader who values relationships, building community, and bringing people together for a common purpose."
In 2006, Hill and other teachers around the district tried to help former Afton-Lakeland gym teacher Jason Gonnion win the election for Minn. house seat 52B.  Gonnion lost to Matt Dean by less than 5 percent of votes.  Now, in 2019, Hill his getting support from teachers around the district who supported Gonnion, including Oakland Middle School social studies teacher Joel Raddatz.
"We were all 10 years younger, 10 years greener, and most of us weren't political," Raddatz said.  "And so when he said that he was going to do this, we were really excited. And just about all our our peer group stepped up and said 'we want to help and how can we help?'"
Raddatz helps support Hill through Volunteer Coordinating efforts.
Julia Bennett and Paige Sanders
Although the campaign is still in infancy, they plan on using as many opportunities as possible.  Currently, Hill hosts Coffee Connections around district 39, where he visits various coffee shops to talk with the people and listen to their needs.  Hill also plans on attending community events and campaigning in the Washington County Fair.  His campaign is also looking for support from a local residents.
"The biggest thing that regular folks, and kids too, that can help that want to when they turn 18, and they're out of school in the summer, will be like phone bank, phone calling and rallies," Raddatz said. "Getting people together and going to rallies and encouraging people to come and hear Mr. Hill speak."
Hill is looking for the future of the state.  From looking to make Minnesota more environmentally friendly, to increasing the funding of public schools, he is looking to improve lives for everyone.
"Josiah has strong values and knows what he stands for. Our community will benefit from his leadership at the state level," Steil said.
"[I will] invest in a way that's going to ensure that you guys [millennials/future generations] have every opportunity to do the important and incredible work that it's going to take to keep moving Minnesota forward," Hill added.
About the Contributor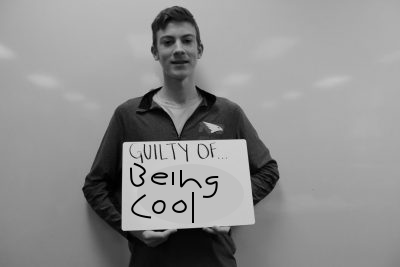 John Franklin, Copy Editor-in-Chief
Hello! My name is John Franklin, I am a senior and I am the head copy editor-in-chief for the Pony Express.  Other than working on the Pony Express, I...