Lizzie Holder commits to University of Colorado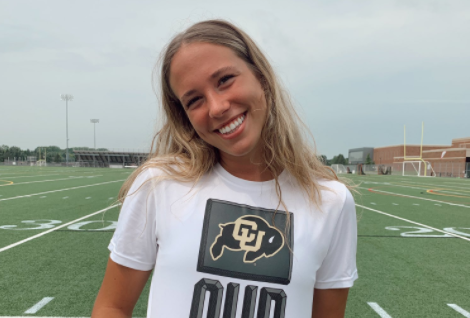 Senior Lizzie Holder signed her National Letter of Intent to play Division 1 women's basketball at the University of Colorado on Nov. 10.
Holder has been playing basketball for over 10 years and plays power forward and small forward for Stillwater.  Last season, she finished out the season averaging 10.4 points per game. Holder has averaged 14.2 points per game out of the four games the girls basketball team has had this season.
Junior Lexi Karlen said she loves having Holder as a teammate because "she holds everyone accountable, especially in the weight room. She's also a very hard worker."
The University of Colorado is a Division 1 school in Boulder, Colorado with a renowned women's basketball program. The team is currently ranked first in the Pac-12 Division.
​
"I chose the University of Colorado because of the perfect fit that I felt I had with it. Just the location itself is amazing and my brother is moving there this fall so he will be nearby. I also loved it because it had the academic route I was hoping to pursue. As soon as I met the team and the coaching staff, we all clicked automatically," Holder said.
Holder is also a member of the National Honor Society, Concert Orchestra and has lettered in varsity tennis for three consecutive years.
"It's definitely not easy to manage it all, but it has helped me prioritize things that were most important to me. It was always academics and the rest fell into place," Holder added.
Senior Lydia Knutson has been playing with Lizzie since fourth grade. They've grown up playing Stillwater Basketball together.
Lydia likes playing with Lizzie because she is a great leader and holds everyone accountable.
Along with playing basketball, Holder plans to study psychology in college. The department of Psychology and Neuroscience at the University of Colorado is ranked as one of the nation's best by the National Academy of Sciences.
"It has always interested me. My dad and I shared a common love for psychology when it comes to performance growing. That's what led to an interest in it now," Holder said.
Holder plans on continuing playing in the offseason to prepare for the Division 1 level. She does basketball workouts almost daily, as well as lifting and conditioning at Laurus Athletic Rehab.
"I'm most looking forward to being challenged against in the country, both on the team and in the rest of the Pac-12," Holder said.