Girls varsity basketball team improves during modified season
The girls varsity basketball team is improving despite the challenges they are working with right now during the COVID-19 pandemic. Not having spectators or family present at the games can be physically and mentally difficult for the players. The captains and the coach are working especially hard to make the season fun and successful, which it has been.
The biggest difference this season is that the players have to wear masks during practice and at games. They take other safety measures such as sanitizing and social distancing.
"We sanitize every time we go to get water in practice and come out of games," junior captain Amber Scalia said.
The good thing is that the girls are feeling more comfortable playing with masks and are learning how to train in them.
It was a struggle at the beginning with the masks, however, Scalia has "definitely gotten used to it."
Another substantial change this season is not being able to play non-conference games. With COVID-19 rules, the goal is to limit exposure to many different groups of people, in different conferences.
"Those games usually give us more competition and if we were to make it to state… it would have given us an opportunity to know what those better teams would be like," Scalia added.
It is also difficult to not have many or even a few spectators at the games, but they are making the best of the situation.
"There would always be packed stands with kids from the high school cheering us on. It is a big difference without having all the fans in my opinion, but it's better than none," Scalia explained.
"
There are many teams and schools out there that don't get to play and I'm just thankful we get the opportunity to play."
— Amber Scalia
Despite this, the players are playing quite well including senior captain Alexis Pratt who said even if her parents did not come, it did not really bother her because she knows she needs to keep playing her games even when they are not there.
Although there are many challenges this year, there are some positives. The players are very grateful to get a season, even if it looks a little different.
"I mean the good thing is we are playing basketball. I know a lot of places that are not playing anymore or have stopped. Another thing that is good is that I get to play with my team again for one last year," Pratt added.
This is especially positive for the seniors who have had such a crazy season. Despite the challenges being faced, the team is so far undefeated this season.
The team is doing exceptionally well and this is due to several things; their ability to communicate during games and their speed has improved. They are 9-0 and recently won a home game against East Ridge 82-55. They are first in Section 4 AAAA and fourth in the Minnesota Division AAAA leagues right now.
"I think our chemistry on and off the floor is a big reason for our success. Many of us have played together since 5th/6th grade and I think it's a huge piece of the game that has made us successful," Scalia added.
The team sometimes gets together before or after games and goes out to eat, as a way to still do team bonding activities.
About the Writer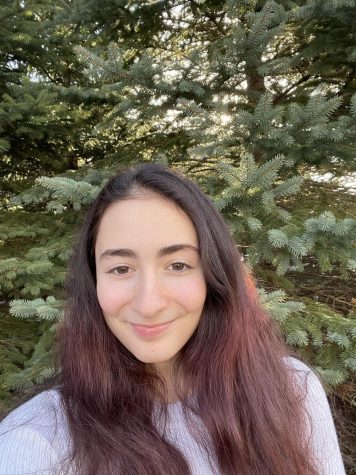 Nila Cooper, Photography Editor
My name is Nila Cooper and I am a junior and photographer in newspaper. I am a competitive figure skater and I am also part of the Wind Symphony, jazz...