Student council puts on BLAST week
BLAST week is a time for kindness put on by Student Council. This week takes place in Feb. because it is Black History Month and BLAST week helps celebrate and recognize the significance of being inclusive. BLAST week includes guest speakers and events that are intended to bring the community together.
The week of Feb. 11-15 was about "being loving and sharing together." BLAST week is a time to bring the school together. Each day of the week had different activities planned everything from guest speakers to serenades. Students and staff can show their spirit by dressing up each day of the week according to the dress up days chosen and by participating in BLAST week events.
BLAST week features a cultural fashion show in the auditorium. This fashion show gives students a chance to display their culture through clothing. The cultural fashion show was a big hit last year and student council decided to do it again. The students get to walk on stage displaying clothing that represents their culture, giving other people insight of their heritage.
"It is an event for students to show off their heritage through clothing," junior Student Council member Khuluc Yang said. "For students who are viewing, they get to come and see theirs peers and learn about their culture."
"
We have a lot of pride and spirit for our school."
— Jenna Yingling
Throughout the week, speakers range from students to adults speaking. Students can come and listen to these speakers in the auditorium. On Wednesday, former professional basketball player, Tony Carr spoke about black history. On Friday, there was Black History celebration, disabilities presentation, women in politics panel and an LGBTQ panel.
Junior student council member Jenna Yingling said, "Speakers that we can have throughout the day contribute to bringing our community together, there is a variety of topics to reach out to anyone."
Dress up days are a way to get the school participating in BLAST week.  Each day had a new theme that anyone can wear. Monday was a pony pride day, Tuesday was a throwback day, Wednesday was a denim day, Thursday was a Valentine's Day theme and Friday was a vine/meme day.
Yingling said, "We have a lot of pride and spirit for our school."
Junior Student Council member Dylan Doyle added, "dressing up for spirit days are the easiest way to participate and show the school your pride."
All of the money raised during BLAST week and other Student Council events like the Snoball dance go toward BLAST grants. Teachers apply for these BLAST grants, and student council votes on what teachers these grants go to. These grants allow for teachers to buy new materials for their classrooms.
Yang said, "Teachers get some amount of what they asked for in the grants, and then we give it to them. Everything goes back into the school, it's like a cycle in a sense."
BLAST week has been an event put on by Student Council for many years that has unified the student and teachers through events and activities that promote positivity.
Yang said, "Each year there is a message that BLAST week has, and this year is about inclusivity."
About the Contributor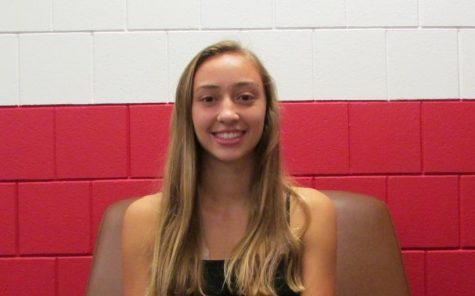 Elle Sprenger, Social Media Editor
Hi my name is Elle Sprenger. I am a junior, and a Social Media Editor for the Pony Express. I play volleyball for the high school. I love dogs, animals,...