Bev Petrie leads Partnership Plan, supports community
When the school does not have the funding to support the activities that the student body spends their time with after school throughout the year, grants from the Partnership Plan provide funds to allow students to have these opportunities. Activities and fundraisers are also hosted by the Partnership Plan to fundraise for the ability to give out grants, as well as get students involved in learning and art.
Beverly Petrie, the Executive Director of the Partnership Plan has the responsibility to oversee events and fundraisers. The Partnership Plan hosts events such as the DaVinci Fest which has been occurring now for over ten years. They also put together a large fundraiser each year. Their gala, called the Partnership Party, will take place on April 5 this year. Twenty-one grants were approved district-wide this year. Four teachers at the high school were approved for grants this year; one of which was named, "Tubas! Tubas! Tubas!". This allowed the school to purchase several new tubas for current and future band students to practice and perform with. The other three grants at the high school were awarded to Rachel Steil, Jon Hinzman and Andrew Smith.
An important part about Petrie's roll in the Partnership Plan is her devotion to the betterment of the community. Younger students can attend events that draw them into various subjects and she is regularly at these events to help draw kids in.
Speaking about Petrie, Principal Rob Bach explained, "She's super invested and not only just making sure that the event goes well, but that it's successful in terms of how it reaches out to kids. Also so that doesn't happen without a personal investment."
As well as helping younger students get involved and excited, she also directly helps kids in higher grades further their work. Working with students to get their names in the community allows them to have a platform to use to progress.
"She helped me personally a lot, getting my project from last year pretty far out there in the community," junior Michael Finch, DaVinci Fest Grand Champion said. "She bought it, and then she auctioned it off, which was really good publicity for me as an artist."
Grants from the Partnership Plan are essential to ensure equipment for all kinds of classes is working properly and up to date. These grants can also cover costs for certain things such as the coffee cart, which is run by Hinzman with the help of students with special needs to provide them with valuable real-world skills.
When elaborating on the usefulness of having a coffee cart, Bach said that the coffee cart, "gives some of our students with special needs skills in the areas of customer service, and just in their personal relations skills, as well as math skills, job responsibilities, skills with stocking, inventory and those kinds of things."
The Partnership Plan does not only host fundraising events. Like the DaVinci Fest, they use community events to inspire and congratulate students going from kindergarten to graduation. Each year, a banquet is co-hosted by the Partnership Plan to honor the "Distinguished Alumni of Stillwater Area High School" in which new members are inducted each year.
Petrie described why the Partnership Plan is important to her, "The years of Kindergarten through 12th grade are a journey of self-discovery for each student, and we know that finding that spark – the thing you love and that you're good at – isn't always easy to find. The kinds of projects that the Partnership Plan supports help give students the chance to discover their strengths and passions. Who wouldn't want to be involved with work like that?"
About the Writer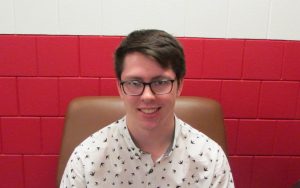 Ben Jacobs, Podcast Reporter
My name is Ben Jacobs and I am junior. I am on staff as a podcast reporter. I don't do as many school activities as I spend a lot of my time doing homework...