"Wait, are you the Rock girl?" Katie Kelzenberg's promposal garners big attention
"She gets recognized everywhere. Like, 'You're that girl. Congratulations.' We were at the theater and some random old people came up and took pictures on their cell phones. An old man said, 'Are you, like, the rock girl?'A lot of people think she won a contest," Katie's self-described bodyguard and friend, Andria Barrett, said.
Bubbly Katie Kelzenberg filmed a video at her Minnesota home. Almost a week later, she attended a exclusive sneak preview of Rampage, the lastest film starring Dwayne "The Rock" Johnson.
It started with her friend Hannah Gilsdorf's suggestion to prompose to The Rock. The fad of asking celebrities to prom has exploded over the past few years, with high profile stars such as Kylie Jenner, Rihanna, and Taylor Swift all accepting promposals via social media.
"I fell in love with the man, and I saw all these different videos around the nation asking celebrities to prom, and I was like, I could do that. And so why not ask the Rock. That would be fun," Kelzenberg said. 
Gildorf and Kelzenberg worked together over an hour long session to create her video to ask her longtime celeb crush to the Stillwater Prom. The Rock responded quickly, promising a special video response later in the week.
"I absolutely love everything about this. Including this lovely young lady, Katie. Unfortunately, I'll be shooting my next film on 5/5, but I have a personal video response I will tweet you later on today. Stay tuned Katie," The Rock said in a tweet on April 15.
Friday morning, Kelzenberg received her answer via a school announcement. While The Rock was unable to make it to the prom, he offered a special movie showing to Kelzenberg and 232 other students, with free tickets and movie snacks.
"
I fell in love with the man, and I saw all these different videos around the nation asking celebrities to prom, and I was like, I could do that. And so why not ask the Rock. That would be fun"
— Katie Kelzenberg
"People were looking at me. And I was like, why? They're looking at someone else like I don't really contribute to this school as much as other people do. But then, like, I'm looking around and people were like, "I think it's for you." And then all sudden I hear Dwayne "The Rock" Johnson on the loudspeaker. And then he says my name and I just started bawling," Kelzenberg recalled. "People were talking about it [in other classes] and then like my friends were like, 'That's her. That's the girl.'"
Kelzenberg has since gotten noticed by national media for her efforts, including interviews on shows Like Good Morning America. Her video has about 3,000 like, and counting.
"People just come watching this video and watching the video and I was like, it's gross. Oh my god, it shows my feet at one part," Kelzenberg explained.
"My favorite part of the video," Barrett chimed in.
The next goal? Get Katie on Ellen.
"I feel like she can help facilitate that meeting between me and the man," Kelzenberg said. 
The film was fantastic, according to her and many of her friends. Ticket sales were managed by the school, which caused a little bit of confusion. The school was given 232 tickets, though Kelzenberg was originally only given 10. However, between The Rock and Principal Rob Bach, Kelzenberg got to invite 30 people to spend time with her in an exclusive private waiting area before the film.
"[There was] just kind of like a lot happening. But once they started letting people in, they would come and say, 'Congratulations,' or something nice or start talking to me for a little bit. I don't know who all showed up, but that's kind of nice because I was just focused on the people around me. I needed that." Kelzenberg explained.
Though Katie wants to make it to Ellen, she doesn't feel as though this is a hugely brave moment for her.
"I didn't really think much of it like like I'm just doing this thing," Kelzenberg added. "Everyone's like, 'Oh, she's so brave,' and I'm like, no. I'm just like doing something I wanted to do, like, I don't really feel like I'm doing outside my normal comfort zone."
About the Writer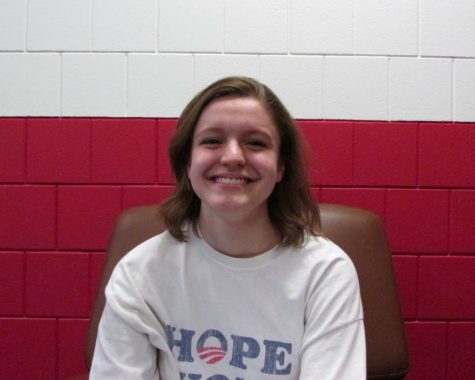 Abby Banks, Editor-in-Chief
Abby Banks is a senior and is a Print Editor-in-Chief on the Pony Express. Her favorite fruits are pineapple and passion fruit. She is junior officer of...