BSU helps promote awareness, diversity in community
Every week, a number of different clubs can be found meeting in and around campus. The Black Students Union, or BSU, meets every Tuesday in the main forum from 2:30-4:30 p.m. Typically, they will see 20-30 students ranging from freshman to seniors coming out to talk about experiences of being students of color in a predominantly white school.
The BSU was in the process of being created since the 2016-17 school year and from the start, the students involved in the creation of the club knew they did not want it to be a club where a few close-knit friends come to fool around after school. The BSU board wanted to see students of color more comfortable speaking out and standing up, in order to educate themselves and their peers around issues that they see in our community and in our world today.
They also had in mind the entirely new population in the school that is the freshmen and sophomores, and what they could do to make them feel more comfortable at SAHS. They run much like other clubs that promote diversity such as the Students Promoting Cultural Awareness.
"I think we basically do the same thing, when we were creating it, we had to have a meeting with the SPCA and our club because…we wanted to have something different…we wanted our own space," junior Alicia Soltero said.
The BSU operates differently from other clubs that promote diversity such as the SPCA or the GSA, in that a lot of its members or their parents are immigrants and come from Nigeria or Ethiopia, meaning they can share firsthand experiences of what they have seen as people of color.
In addition to being a safe space to share experiences, the BSU also exists to educate its members and encourage discussion on certain topics. Certain topics discussed so far this year include dealing with conflicts, standing for the pledge and standing up to bigotry in the school environment or in the world. They also look for projects and ways they can put an end to bigotry.
"We were looking for a project…we recently received one called 'Speak Up!' about how you can confront issues of bigotry when you're around family…in the workplace, at school…it's a little booklet," junior Fatima Menawa said.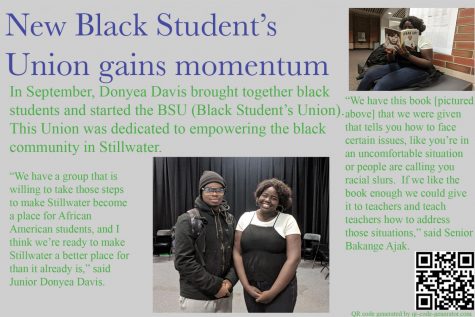 "Speak Up!" is an 89 page informational book about how to respond to everyday bigotry. It gives both students and adults the tools to confront all sorts of common bigotry in the school or in their workplace.
Davis, Soltero, Menawa and other members of the BSU board hope to put these ideals into play in everyday life, to hopefully put an end to bigotry faced by students of color in our school and community today. They hope to continue to foster an educational and social club in the BSU that can help the students of color at our school succeed in the future.
As Menawa said, "We want BSU to last."
About the Contributors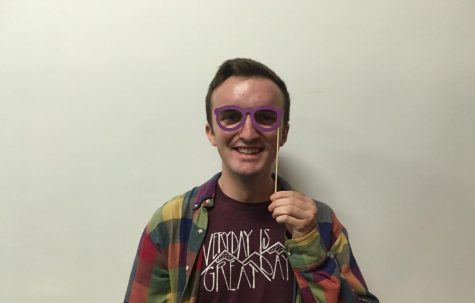 Ben Valerius, Announcements Editor
Ben is a junior and writes for news. He is the Announcements Editor. Ben enjoys taking part in theater and singing in the Stillwater choir and Vagabonds....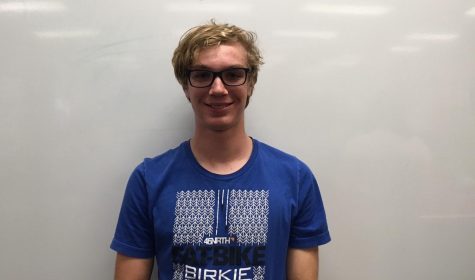 Grant Hietpas, Video Editor
Grant Hietpas, Junior, is the filling the position as Camera Editor on the SAHS Newspaper Video team while also writing for two departments, Editorial/Political...