Student Council and Special Ed department team launch Pony Market
Hang on for a minute...we're trying to find some more stories you might like.
Sam Hudachek and Adam Sutcliffe
This year, student council and the special education department have teamed up to open a new school store called the Pony Market.
The Pony Market, located in the main rotunda, is open on Wed. and Thurs. from 7:45 a.m. to 2 p.m. It is being run by both the student council and the special education department. The market carries a wide variety of products ranging from snacks to spirit gear. Revenue made by the Pony Market will be used to raise funds for the school and student council.
Recent changes have led to the student council losing their ability to sell treats as a fundraiser. As a result of this, they have been forced to find new ways to raise the funds necessary to organize and conduct school events. The Pony Market is the latest way for the student council to raise funds.
"We are trying to raise money because we can't sell the food that we normally sell during blast week," student co-president Eve Thompson said.
Along with student council the Pony Market is also being run by the special education department. Running the market provides job experience for students without requiring them to leave the school environment. The partnership also helps to prevent gaps in the operating hours of the market by providing two groups of students to help organize and run it.
"
It's a great opportunity to sell some stuff for school spirit that doesn't cost a million dollars."
— Dusty Dennis
"The special ed students work in the store and run it, while the student council oversees it," special education teacher Dusty Dennis said. "We thought that it was a great opportunity to partner with the two groups in school."
The absence of a school store has also made the promotion of school spirit more difficult. The Pony Market is a new location for students to purchase spirit wear and other Ponies gear without having to participate in sports or leave the high school to purchase spirit items. Items are affordably priced and cost less than most items from locations outside of the school.
"We thought that it might help promote some school spirit," Dennis said. "It's a great opportunity to sell some stuff for school spirit that doesn't cost a million dollars."
Although the Pony Market is focused around spirit gear, it also carries an assortment of other items. The products for sale range from snack food to bath bombs made by the special education department.
"Right now there are lanyards, drawstring backpacks, sweatshirts, t-shirts, sweatpants, little bags with a charger kit and headphones, water bottles, scarves, hats, gloves and cliff bars," Dennis said. "Then there are some products our kids make, like bath bombs and pony blocks that light up."
If the Pony Market turns out to be successful in the following months the staff will work to tailor products to fit the demand of the students. This would allow the market to stay fresh and give people a reason to return for more than just a snack.
"We are looking into, once we know what people want, starting to buy stuff in that general direction," Dennis said.
Student response is one of the final pieces needed to implement the Pony Market to it's fullest extent. As the market continues to grow the beneficial results will also continue to grow.
"I think it's a great addition to the school," junior Calvin Brinda said. "Now that I know about it I will use it all the time."

About the Writer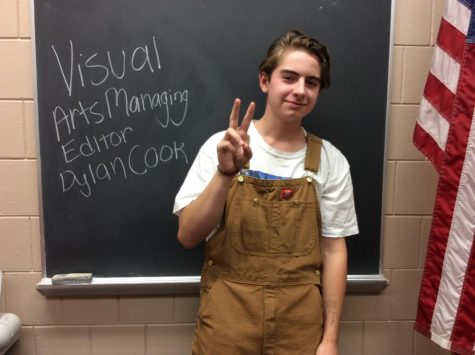 Dylan Cook, Visual Arts Managing Editor
Dylan Cook is a creative, outgoing, and outstanding sixteen year old student at Stillwater Area High School. Dylan enjoys photography, music, and snowboarding....