Stillwater track continues its winning ways
As the snow melts and the trees start to bloom, the Stillwater Boys track team begins another season. By winning sections and making it to state last season, the team reached new heights and will once again look to take the section 4AA title. The team is back to back section champions, and with the mix of experienced seniors and juniors, combined with talented sophomores, Stillwater is looking like a heavy favorite again this season.
With close to 20 events in track and field, there really is a event for almost anyone. Whether it be running short distance in the 100 or 200 meter relays or testing endurance in the 3200 meter run, track has all of these events and more. Track not only has running events, other events include long jump, pole vault, high jump and discus throw.
Junior Tim Koenning said, "I think the team has had so much success because of the leadership of older guys carrying over to the underclassmen as time goes on. Guys like Tom Linner, Connor O'Neil or Tayler Aarness were all great role models to the team that influenced our leaders and attitude towards the sport now."
With every successful team comes great coaching, and coach and science teacher Scott Christensen is no exception. According to the Stillwater Gazette, Christensen has 48 section championships (24 in cross country and 24 in track) in his coaching career. With his experience and help of his assistant coaches, the track team has coaches guiding and helping the students be the best in their event.
"Our coaches are always pushing us to do better and everyone is competing hard," said junior Ethan Berry.
Junior Nick Yokonovich explained how he feels the coaching staff helps the team. "The track team is so successful because it is composed of smaller teams: the sprinters, throwers, verticals and distance runners. Each group practices with their respective coach, who specializes in workouts for specific events. Coaches with such extensive knowledge and captains in each group help to push us to be the best that we can be. It helps athlete's talent come out during the spring," he said.
Another reason the track team has had so much success at Stillwater, is they have excellent junior high track teams as well. At Stillwater Junior High and Oak-Land Junior High, students can start competing in track as early as 7th grade.
"I joined track at Stillwater in 7th grade because I liked the idea of being involved in the most simple form of competition. I have stayed with the sport because of the success of the team that I have had, as well as the important life skills I learn from Scott and Ryan's coaching," said Koenning.
Finally, with any great team, there is teamwork. Although many students practice their different event for track, they all come together to form one team. Yokonovich said, "The track team has a unique bond. The team is so big and you train in different groups, so you don't see some people everyday. When meet days roll around though, we all come together to watch the events that we aren't competing in. Watching events like the 4×400 or seeing the last high jumpers competing towards the end of the meet really bring the team closer together."
With strong leadership, great coaching, teamwork and the occasional early morning practice, the track team will look once again to win sections and get to True Team State, where they would face heavy favorites Wayzata and Edina.
View Comments (2)
About the Contributor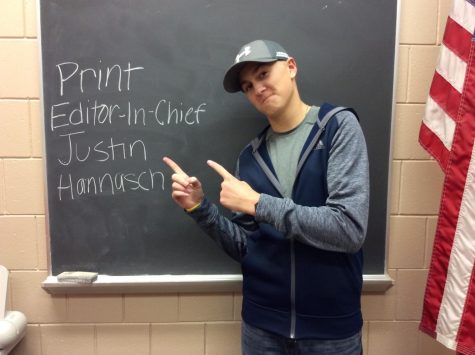 Justin Hannasch, Print Editor-in-Chief
Justin Hannasch is a senior this year. He is a Print Editor-in-Chief on the Pony Express Newspaper. Justin enjoys hockey, golf, and racing and is also...