Eighth-grade synchronized swimmer Hailey Schmit ranked first in state
Hailey Schmit, an eighth-grader competing in girls' synchronized swimming, is maintaining a winning streak this season, placing first in all three-figure meets. Her team placed well altogether in routine meets, propelling her to first in the state. Schmit has competed for most of her life and is close to completing her second year on the varsity team.
"I hope to stretch my comfort zone and push my limits to become the best swimmer possible. I don't want to fly by the season thinking that every championship will be handed to me with ease. I am going to do everything I can to take my talent to the next level," Schmit said.
Schmit competes in the extended division, which is the most rigorous level of competition. Competing at figure meets, where an individual component is scored in a solo performance, brings her best scores. Schmit has scored an eight in all three figure meets she has competed in this season. Paige Schmit, her younger sister, is not far behind, placing second in the state as a 10th grader. 
"I think it's really rewarding for her what she's accomplished and it's so nice having Hailey and her sister on the team. You can see they work really hard for it, always putting in overtime and if anyone is deserving of it Hailey and her sister are", said senior Lucci Miller.
A competitor since age six, Schmit has continuously been a strong contender in performances. One of the biggest accomplishments in her career has been traveling throughout the country to perform for well-respected judges. The well-rounded Schmit participates on the swim-and-dive and synchronized swim club teams during the off-season. The majority of her team also engages in both sports because they enjoy being in the water. 
"This sport has taken me so far, and I'm so grateful for all of the opportunities it has granted me over the years," Schmit said. A goal that I've had ever since I joined this sport was winning a state championship, which my extended team recently accomplished. These feats have shifted my perspective on synchro into something more serious and meaningful in my life." 
"
This sport has taken me so far, and I'm so grateful for all of the opportunities it has granted me over the years.
— Hailey Schmit
An essential component of her successful career has been her continuous support from lifelong teammates, coaches, and family members. Juliet Schmit, both her mother and coach is one of her strongest advocates. Her mother has been coaching at Stillwater for 21 years and has always participated in the sport. 
"I think growing up watching me and my passion for the sport influenced both of my girls to try it and they just fell in love with it, I've loved watching them improve and seeing how it builds their confidence and some days can be tricky but other days so rewarding," Juliet said. 
At such a young age, achieving the title of number one in the state has its challenges, including carrying the pressure and weight of others' expectations.
"I just want her to have fun," Juliet said. "These are the years that I remembered making friends, memories and winning state championships and losing, some years were more difficult than others and I hope that she takes that with her."
Hailey plans to continue swimming throughout her high school career. Her passion for the sport is what she believes will propel her in the years to come.
"I am so excited to see where my future on this team takes me, and I am ready to face any encounters and challenges I will have along the way," Schmit said.
Leave a Comment
About the Contributor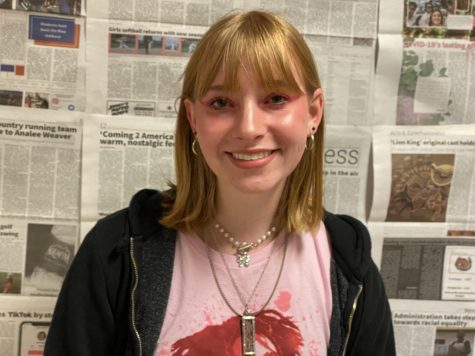 Cambrie Cole, Photographer and Public Relations Editor
My name is Cambrie Cole and I'm a photographer and Public Relations Editor for the Ponyexpress Newspaper. Currently, I am in 11th grade and enjoy exploring...