Amy Carr wins Impact Influencer Award for her work with students
The future can be scary, but Amy Carr, the College and Career Paraprofessional, works hard to make students feel confident leaving high school. She has been working in the College and Career Center since 2016.  The dedication to her work has led to her receiving the Impact Influencer award. The award was presented to Carr by David Webber, Region Deputy Commodore Caption.
When Carr applied to work in the College and Career Center, she wanted to work individually with students. Helping students find what they want to do in the future and what they can do to achieve their goals is Carr's passion.
What attracted Carr to her job was the "one on one interaction with students, and helping them through the process."
Carr was presented with the Impact Influencer award because of her work connecting students to military, college and employers. Though the College and Career Center, Carr has made an impact on the students here at the high school.
"I was completely surprised, I had no idea that I was getting the award. So it was a really nice surprise," Carr said.
It is no surprise to the people that work with Carr, that she has won this award. She guides students in creating a plan and helps them understand the opportunities that are out there. Having someone as gifted as Carr for students to reach out to about their problems, either personal or academic is phenomenal, explained to Cultural Liaison Cornelius Rish.
"She's been just a phenomenal office mate as well," Rish said when asked about what it is like to work with Carr. "She looks out for other people and wants to make other people successful."
The goal of the College and Career Center is to work with students to find a plan that works for them. Carr aids students in finding and understanding what opportunities are out there. There are so many tools to help students in the College and Career Center like the college and military reps that come and scholarships.
"It provides a resource to find future pathways which can make kids stressed out in school. It's a good place to go if you do not know what to do," explained Junior Eiri Salman.
Carr helps students figure out what comes next after high school. Carr tries her best to tell them not to worry and that things will work out. The unknown makes planning for the future stressful for students. She wants students to know that there is this resource for students to use and take advantage of.
"When the majority of your high school career has been structured and then all of a sudden, you're in this place where you have to make your own decisions, you have to figure out those steps, and without proper guidance it is very difficult to do," Rish said.
Rish added that the school is very fortunate to have someone like Amy who's very knowledgeable, personable and someone that is very service minded, who goes out of her way to help and serve kids. She is a very valuable resource to SAHS.
View Comments (1)
About the Contributor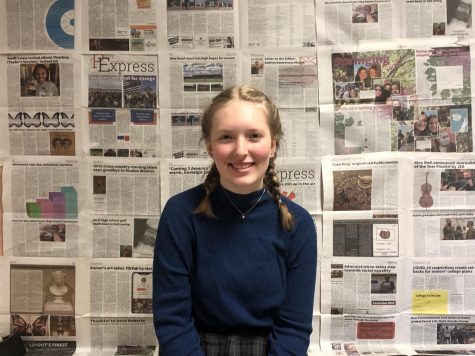 Shannon Pothen, Layout editor
I am junior Shannon Pothen. I am a layout editor on the Pony Express. I am also in Amnesty International club and NHS. I like to spend time outdoors and...