Ashley Williams with talent for racing karts
From May to October number 25, junior Ashely Williams, races karts weekly. Last year, she raced a 600CC micro sprint and her own 500CC outlaw kart. This year, she is expecting to run 30 races in her 600CC micro sprint and 12 in the 500CC winged outlaw kart. 
Williams has been racing since she was five years old. She has participated in local races and has gone as far as Red Bluff, CA.
"We were sitting in the office and my dad asked me if I wanted to race," Ashley explained. "I didn't understand what it was because I hadn't been to races, but I said yeah of course. After, my dad and I went to buy a kart and I didn't know what we were getting into."
Her father encouraged her to do whatever made her happy, so as a kid Ashley loved playing with remote control toys and was obsessed with driving anything she could. Her parents would find her sitting in cars waiting to drive them. And when she was lucky enough to get the chance, she smiled from ear to ear, even though she could not see over the steering wheel.
Ashley explained how her father "didn't care" and he was going to give her the "same opportunities."  He wanted to "treat his children the same no matter what."
Around the track
Since Ashely is planning on participating in 42 races, she has been working on getting sponsorships from as many companies as possible. Currently she is sponsored by Old World Meats, Jerry's Auto Body, Advance Auto Parts, Schaeffer's, Tires Pro, Mathnasium, and more. She has also been working on growing her Facebook, @ashleywilliamsracing, and Instagram platforms to get her name out.
"The biggest misconception about sponsorships is they are not handed to you," Ashley said. "You have to work for it. And the last few years I've really noticed that. My family and I have had to work for all my sponsorships, from making enough money for it to come back to the racing program all the way to sitting in a meeting with the companies."
Along the way Ashley and her family have met many new people, from sponsors that are willing to help her, or random people around the track who just want to talk. Within days they are able to make strong connections and call themselves best friends. 
"It's amazing how many strangers we meet, and the next day they're staying overnight with us because that's how it works when we travel together," Ashley's mom Kristie Williams explained. "We've met a lot of people we consider to be very close to us, who are not related to us at all."
Having new connections to racing is great, however, Ashley is not new to being well known around the track. She is respected for her attitude, sportsmanship, and people call her  Lil' Beast because of her ability to race. She has won countless races from Rookie of the Year in the MN Mirco Series to back to back 250cc outlaw kart season points champion. Ashley was also the first girl to win a micro race here in Minnesota. 
"There have been times where I'm in my 250 and they have to hold the race back for me to have time to get into my five pointer," Ashley said. "Normally they don't do this for people, but there were times where they were about to drop the green flag, and people knew to leave a path open so I could fly out there and start. It's not like you open your car door and just sit in. You have to get in a small space, like crawl through a window, buckle up, and get your five point harness on."
Behind the scenes 
"
"I've been trying to do more and take over responsibilities, which has helped us as a team overall, now I can come in and make decisions for myself, rather than going to my dad, so stuff like that has helped evolve our team.""
— Ashley Williams,
Races are won in the shop, which is why communication is important because everyone has their own role. Ashley is in charge of cleaning the trailer, truck and her karts while making sure to tell her parents what needs to be fixed. While everyone else on the team is responsible for certain mechanical parts of the machines. 
Ashley has certain responsibilities when it comes to communicating what needs to be changed or how it needs to be changed. She also has to understand the technical dynamics of her car, so she can help lead the direction for setup and prioritizing, Kristie explained.
Ashley and her mom have shirts that say, "Sorry, I can't. We're racing" because it takes up a lot of their time, especially in summer. Their team sacrifices many family functions such as weddings and graduation parties because they are usually out of town. During winter months, Ashley's time is equally split between working on her karts and school, along with keeping a commitment with her parents of being a good student and teenager. 
"I think the hardest thing is people think I never have time, but I'll make time," Ashley said. 
"People assume she doesn't have time and granted, she's not going to be home on a Saturday, but she's really going to take advantage, manage and balance her time, so to her, a two hour hangout session is not worth a million bucks," Kristie added. "We have an open door policy, so if a friend comes over and hangs out for 15, cool, sleeps overnight, fine, or if Ashley has to do something and someone has to sit and watch TV because she has to concentrate, great. We get in trouble together and have fun together."
Ashley is planning on continuing school after high school. She wants to become a physical therapist, but she does not want to end her racing career.
"Honestly, I don't see an end for Ashley," Kristie said. "I think it will transition away from the family team to her own team, but she wants racing to be in her life, whether it's as a hobby, or a little more than that. Whatever it might be, racing is going to be some component of her life."
"I don't ever see myself being done with racing," Ashley said. "I see myself being a part of that community because it would be really hard for me to step away from it, even though there's times I want to. Obviously I'm going to work really hard on my career, but I always see it being a part of my life."
Leave a Comment
About the Writer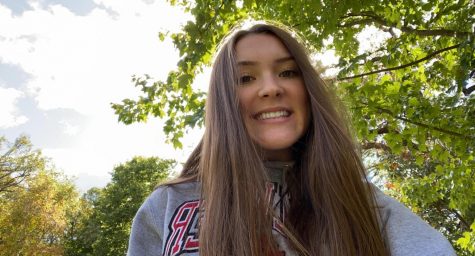 Kady Peltier, Layout Editor


My name is Kady Peltier and I am a junior this year. My staff job for the Pony Express is layout editor. I am involved in Trust Club, Key Club,...