Ski teams wrap up successful seasons
As the ski season has come to an end, the team can safely say it was a great one. All of the four ski teams, boys and girls alpine, along with boys and girls nordic, had successful seasons in their own ways. Three of these four teams, excluding the boys nordic team, went to the state meet at Giants Ridge Ski Resort in Biwabik, Minn., which is where their seasons also ended. That was on March 10 for the alpine teams, and March 11 for the girls nordic team. Since the boys nordic team did not qualify for the team state meet, their season ended at the section tournament on March 3. Despite no team capturing the state title, this was a season to remember, especially for all the challenges they overcame in the midst of the COVID-19 pandemic.
The boys alpine team was the highest finisher among all the ski teams. After a second place finish by a slim three points at last year's state race, this year's team was determined to win the title. The determination that came from such a close loss, along with four of their top six skiers returning from last season was a formula for success. Unfortunately, despite a team score that gets first place most seasons, they fell six points short and finished second to Lakeville South, the same team that defeated them the year prior.
Senior captain Adam Gaertner said although they did not win the state title, he was very "proud of the team" and how hard they worked all season toward their goal.
"I would say we all took that to heart in the offseason with training, and this year we were very focused on our goals at practice," Gaertner said.
The girls alpine team also had a very strong season. Similar to the boys, the girls were runner-ups last season. They too had significant returning skiers, including junior captain CJ Fredkove. Unlike the boys, one of their goals was to finish in the top three at state. They fell just short, but were rewarded with a fourth place finish, a very solid team effort.
"The major highlights for our team were the section and state races," sophomore Bella Helke said.
Kevin Newbauer, head coach for boys and girls alpine, mentioned he was very proud of the girls team for working hard towards their goal. "I am super proud of them. I would say this was the best state meet I have ever been to. They just kept grinding, and they skied really well against an incredible field."
In Minnesota High School Alpine Skiing, the Stillwater program is one of the best historically, and this year's team was no exception. This season, the Stillwater alpine team marked the 34th consecutive season, with the exception of one, that one or both alpine teams attended the state meet. It was also the 16th consecutive season that the boys won the Suburban East Conference. Although no state titles were taken back to the valley this season for the alpine team, many people involved felt that this year's team was very special.
Newbauer explained in high school skiing, many variables must go your way in order to win state. He believed this year's team, the boys in particular, had a very good chance at winning state. "Starting a couple years ago, the coaches thought this year's team could be very special, and we believed they could take a shot at a state title. For the boys it came down to one turn, and that was the difference between first and second place," Newbauer said. He also mentioned two of the girls top skiers had poor starting positions at state, and if it was not for that, the girls are "on the podium no problem."
"
The kids gave everything they had, they did not hold back. That is just how the kids roll. They go out, do their job and move on. I am super proud of them"
— Kevin Newbauer
The final Stillwater ski team that competed at state was the girls nordic team. This team lost many significant skiers from last season, including second place finisher at state, 2020 graduate Libby Tuttle. At the beginning of the season, they took a more developmental approach, since many inexperienced skiers were on varsity. In fact, a shocking five of their seven varsity skiers were underclassmen this season, only one of which had varsity experience going into the season.
Junior Louisa Ward shared about the team's initial goals of staying safe and having fun at practice. "We did not have a goal of where we were going to end up, as we were not the team we were last year. We knew we were not going to end up in the top three," Ward said. Ward added that they had "more ambitious" goals as their season progressed. "As we started to figure ourselves out, we wanted to win sections and race."
The only Stillwater ski team that did not qualify for the state meet was the boys nordic team. Two of their last year's top skiers chose not to play for the school team this year, leaving very little experience on this season's varsity team. Similar to girls nordic, the boys had only two out of seven returning skiers from the section and state roster. Despite a high goal of making it to state, they fell short with a fourth place finish at sections where only the top two teams advanced to state. This year's team was proud of the way they handled the changes that came with COVID-19 as well as helped the younger skiers improve.
Sophomore John Kubiak elaborated on how flexible the team was with such uncertainty during their season, while also staying focused on working hard at practice and meets. Kubiak also added that the lack of experience gave "opportunity to new people" on the varsity roster. "The ninth and tenth graders showed a lot of improvement, and there are definitely a lot of new leadership spots they will fill for next year," Kubiak said. He also mentioned that despite their goal of making it to state, the team was satisfied with a fourth place finish at sections when taken into consideration how many skiers they lost from last season.
Another reason why this season was successful was because of how well the young skiers stepped up. With a lot of young talent returning across the board for Stillwater, especially the nordic teams, next year looks promising. Both nordic teams are only losing one senior each, and the alpine teams have top skiers returning as well. A lot of next year's potential is credited to this year's seniors, as they provided very good leadership and guidance towards the younger athletes despite the social obstacles they faced from many COVID-19 restrictions.
"I would like to think I had a positive impact. I think I brought a positive attitude, and I worked hard at practice, and maybe people remember that. There are also a lot of younger guys on the team that are the same way, and they will step up in the following seasons," Gaertner said. He also mentioned he does not think the lack of interaction between teammates this season will greatly impact next season. Kubiak added that the Boys Nordic intends to make it to state next season, and he says his team "has a great chance" with three returning All-Conference skiers.
"We have some girls who are skiing really well and will fill in our three seniors spots from this year. We are expecting a big year out of them for next year," Newbauer added.
Clearly it was a season to remember for the Stillwater ski teams, but there is much more than numbers that contributed to this season's success. These teams overcame many obstacles caused by the pandemic throughout the season. This  included small, designated practice groups and a delayed schedule that made the state meet's snow conditions very difficult to ski on. Along with that, they were not allowed to have the typical state celebration and award ceremony, nor a traditional season-ending banquet. It would be easy to focus on all the events these athletes missed out on, but we must remember how lucky they were to have any type of season in the first place. That is truly what made this season one for the books. "The kids gave everything they had, they did not hold back. That is just how the kids roll. They go out, do their job and move on. I am super proud of them," Newbauer said.
Leave a Comment
About the Contributor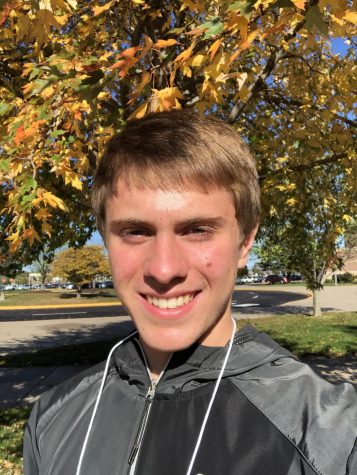 Austin Buck, Broadcast Editor
My name is Austin Buck and I am a junior on the broadcast editing team. I am involved in NHS, Link Crew, baseball, and football at the high school. My...