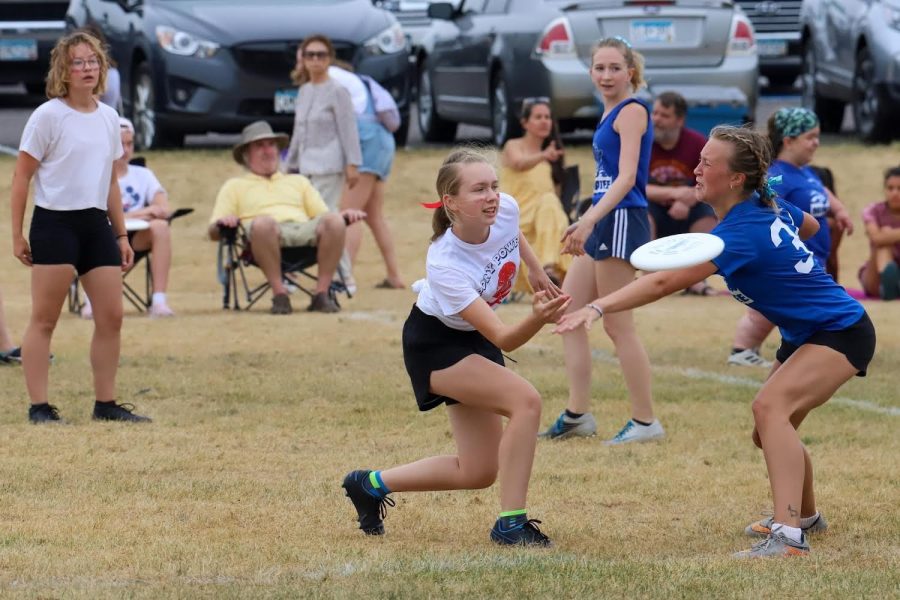 Photo submitted by Margaret Swenson
Ultimate Frisbee grows in size
Rapidly growing in high schools, colleges and at adult levels, Ultimate Frisbee flies across America. Minnesota has the largest high school Ultimate Frisbee league in the country. At the state tournament, 102 teams participated in 2018. The league started as a mixed team – both boys and girls- but has grown big enough for all girls teams and all boys teams. Last year, the high school female team placed fifth at state while the boys team placed ninth. The sport continues to grow and flourish here at school.
Ultimate frisbee is a unique sport. It is a sport that focuses more on the sportsmanship aspect rather than bringing home a trophy. Through the spirit score, the two teams rate one another based on their sportsmanship, how well they know the rules and how well they played.
"There are no referees itself officiated… So obviously, there's a winner of the game, but also, you rate the other team spirit and that's kind of like oh, do they know the rules?" senior Margaret Swenson explained.
Every type of athlete is valuable. From a three-sport athlete to a first-time player, everyone is welcome to the sport with open arms. It is difficult joining a new sport at any age, new or not ultimate frisbee can be a sport for any type of person. The range of athleticism can vary heavily, but everyone is included.
"You don't have to be super coordinated. You don't have to have ever picked up a frisbee in your life," Swenson explained.
It is one of the only co-ed sports. At school, there are only two co-ed sports: wrestling and ultimate frisbee. Most sports have a team for both females and males, while others have two similar sports; like softball and baseball. Ultimate sits in its own category, with a mixed team of players.
 "If a school has a boys basketball or soccer team but not a girls program in that sport, a girl may be on the boys' team," Dana Hunsinger Benbow from the IndyStar wrote.
The team is diverse and tight-knit. The team is built from students of all sports and backgrounds. Ultimate sits around the time of year when most students do not have a sport, it opens arms to athletes that run in the fall and ski in the winter.
"
the Ultimate Frisbee team is all just like one big family."
— Senior Pinty Nindersson
"The Ultimate Frisbee team is all just like one big family and we all get super close," senior Pinty Nidersson said.
Ultimate frisbee is a rapidly growing sport. Ultimate is the newest high school sport. The girls' team has recently flourished, and with enough girls joining there is now a designated female team instead of a strict mixed team.
"If you look at the state of Minnesota, either the picture that kind of exists right now is that team schools either don't have a girls team at all or they've had a girls team for like 10 years," Swenson said.
Sportsmanship and team bonding are more important than winning. Ultimate is one of the only sports played without a ref. The teams at play all ref one another.
"It [ultimate frisbee] really shows you how to work together as a team, unlike almost any other sport," Swenson explained. 
Ultimate frisbee, although relatively new and not heavily talked about, is a unique sport and worth the watch. Be sure to watch the team's next match on April 7 at home.
​