Boys cross country team heads to State
Despite the unexpected Covid-19 pandemic, the boys cross country team is still up and running. With many differences and challenges within this year's season, nothing caused these boys to stop their effort. From daily practices to hard work put forth, the  team is headed to state on Oct. 30 at a Minnesota Division Conference.
This year's cross country season unfortunately came with many new changes. One can look at the change in a negative way, but not the dedicated, positive runners on the team.
"These kids have not complained. And when you have that kind of optimism and that kind of attitude, you become a cheerleader for a group," coach Scott Christensen said. "I'm more of their cheerleader than the coach right now."
Cross country is more than just a team, it is a family of passionate runners who each pursue individual goals.  It emphasizes the personal development process of individuals within the team context. At Stillwater, the team works together, never against each other.
"I'm not sure I can name a difficulty that our team is facing right now. We have a very low drama team this year and believe it or not it really helps us in the long run," senior Ethan Vargas said. "I think our team top to bottom has stayed very humble this year."
With an unexpected turn to the cross country season, the cross country team will continue to practice and pursue each goal as regular. With changes to the schedule, there are no overnight meets, no long bus rides, no hotels, and the team can only compete within their own conference. Despite these changes, patience and positivity are distributed amongst the team.
"If there's one thing I've had to bring to my team this fall this summer and fall, is this, you got to be patient. You've got to be patient with athletics, you've got to be patient with your training. You've got to be patient with your racing during the race but you also have to be patient, in society," Christensen said.
"
You've got to be patient with your racing during the race but you also have to be patient, in society."
— Scott Christensen
Cross country is a sport that comes with a lot of competitiveness. Each runner wants to be the fastest and have the quickest time. Living in the moment is what has been most beneficial for the runners. A stronger focus on one goal rather than many has helped a lot for the team.
Vargas said that no one could say that this year's cross country season is similar to other years. He notes that it would be really hard to find any that really affects the team.  He believes this season has carried many positives, one being that everyone on the team has just enjoyed running more.
A state meet is an important event for the team. This year, there are fewer divisions, but that won't stop the stride of our team. The goal for the state meet is to get each individual runner a little bit faster. 
Christensen said that it does not matter if it's sports. You might win at a math test you have.  It is always so much more satisfying to achieve a goal. And one of his goals is to try to win the state title, and he does not dispel that goal. He hopes to get every kid about five seconds faster.
A lot of anxiousness can come with the state competition, but with the countless hours of practice and team building that took place, these boys are more than prepared to blow this competition out of the water.
"Our goals have been simplified immensely where instead of having multiple goals throughout the year, we have our sights set on one goal and that is to walk away with a state title this week," Vargas said.
Cross country is the kind of sport where they continue to set goals for themselves and reach those goals. With the amazing coaching of Christensen and the devotion of each runner, Stillwater is one lucky school to have such a dedicated team. No matter what the state meet brings, a state title or not, each runner is ultimately a winner.
About the Contributor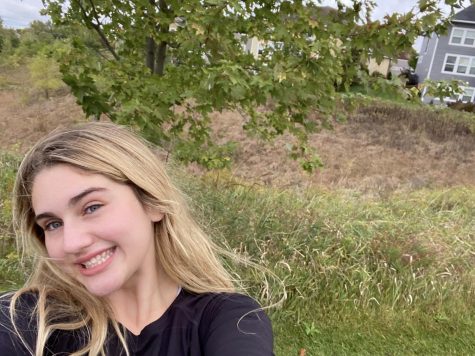 Adrianna Garcia, Distribution Reporter
My name is Adrianna Garcia, and I am in 11th grade. I am a distribution reporter. I am very involved in working a job and helping others. I love spending...