Seniors hope last season isn't more than just postponed
Some Seniors put hours upon hours into their sports, days and nights, turning down friends wanting to hang out, just to practice or play a game. High school sports are one of those moments, where all their time is devoted to one specific thing. And for many seniors this year, their hard work and dedication has stopped for a moment because of the unfortunate coronavirus. 
High school and college sports around the state have now postponed seasons until further notice to try to help reduce the spread of the virus. 
"My hopes are high but at the same time I can't give those hopes up. They are going to want to minimize contact between people and sports would be the first to be cut unfortunately," senior golfer Catherine Monty said.
What is the first thought that comes to your mind when you're told that you wouldn't be coming back to school for at least two weeks after spring break? Happy? Excited? Disappointed? For students, all the reactions were different, but for athletes, especially seniors, that reaction may have been more heartfelt and sad. 
"At first I was excited that school was cancelled because we were going to stay in Florida longer for spring break. But then I started seeing other people's sports being delayed and possibly cancelled like all the college sports and stuff. Then it kind of hit me that we would have that too," Monty said.
With no practices, some of the athletes have taken working out into their own hands. Student athletes have found other ways to continue their sports in the comfort of their home or backyard.
"Our strength and conditioning coach has set up an in-home workout routine that I have been doing to stay in shape. I have also been working on some stick work in my backyard," senior lacrosse player Meredith Parry said. 
The now late start to the season doesn't only affect those seniors who are not playing but also the closeness of the team. Tryouts have now been delayed and teams have not had the time to get practices in before what could possibly be their first competition. 
"We are an extremely young team, four of the ten returning players can not drive meaning that they are not as productive during the off season as those able to drive," senior golf player Sam Schraut said. "We have some open spots to be filled so we will have to have a tryout and prepare for our first match at the same time which would be very hard to do."
Hopes are high for the athletes, but they also understand the reasoning behind why everything has been postponed for the time being. Sports, like lacrosse and baseball, make sense on why they should be cancelled. For Schraut, however, he is unsure if he and his golf team should be concerned when contact is limited to almost none between players.
"The season should 100 percent start up again. Especially because as golfers, we don't make contact with our opponents," Schraut said.
"
They are going to want to minimize contact between people and sports would be the first to cut unfortunately."
— Catherine Monty
Cancelled is one of the last words these seniors want to hear, postponed is good for them but they are looking to go back. For them, canceling would be devastating, the hard work put in over the last years for their final season, something they looked forward to would be taken away.
"I wouldn't have what I've been waiting for for five years: being a captain and playing my last and hopefully best season yet. We have had so many goals set together for this year and we wouldn't get to accomplish them," Monty said.
For many of these players, many students use their high school seasons to get looks from colleges to play at the next level. For Schraut, he may not be playing at that next college level, but feels the compassion for those who were looking.
"I am sad for my classmates who were planning to get noticed by a college during their season but it is now cancelled," Schraut said.
With their optimism still high for one last season to show what they can do, seniors have hopes for this season they want to do. They have looked forward to this moment since they started and cross their fingers it continues. 
Talking to all three of these seniors, each had one thing they couldn't wait for this season, whether it is the team itself or potential they have. Schraut says it is not necessarily about how far he and his team gets, but that he looks forward to spending those 6-7 days a week with them, talking about random stuff. 
For golf captain Monty, she looks forward to being a caption and leader of the team, "I feel like being captain is such an honorable title. Picking the uniforms and leading team bonding." 
For lacrosse captain Parry, thoughts that this year could make it all the way makes her want this season more. "This year's group of girls is a special one and I think we will take things far."
About the Contributor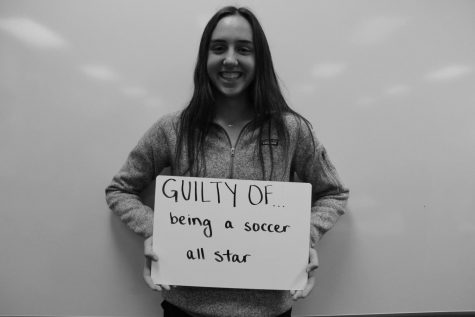 Haley Nelson, Online Editor-in-Chief
Hi, My name is Haley Nelson and I am a senior online editor-in-chief this year. I play varsity soccer for the high school. Besides playing sports, I love...