BIZAA members fight human trafficking
Video by Jack Seipel and Kenzie Motz
On Jan. 22, students in all grades met with Spanish teacher Kirsten Carter for the first meeting of the Basic Institute for Zonal African Advancement, also known as BIZAA. The club will be sponsoring a student in Nigeria, Africa so that the child will receive an education and not get involved with human trafficking.
BIZAA will be meeting on the second and fourth Monday of each month in room E133. Since the club is new, at the meetings the groups will be working out details of the club, checking progress on the child they are sponsoring and they will work with the BIZAA organization to learn more about upcoming plans. Students will be able to donate to BIZAA as well as participate in fundraisers such as grocery bagging to make money to support children in earning an education.
Okey Anyanwu is the founder of BIZAA. Anyanwu is from Nigeria which is why BIZAA is mainly based in Nigeria at this time. He has come to Amnesty Day at school for the past few years to explain that his mission is to identify and protect child laborers and trafficking victims. Anyanwu's passion for these children spoke to students and staff and soon many people wanted to help.
"Last year, [Okey] came to speak at Amnesty Day and he was so passionate and inspiring," Carter said. "The next year, this year, he came back. He has such a powerful way of drawing people in not only to the cause but as a call to action. After the presentation I approached him and asked about the club and it turns out he was looking for someone to lead the club. It was impossible to say no to him."
Without proper education, children in Nigeria find themselves working in fields and doing other jobs related to child labor. These children live in poverty and do not know any different. In Africa there are not adequate laws in place to protect these children. BIZAA will be giving education to victims of child labor and trafficking and also to children who are at risk.
"BIZAA has already impacted over 200 children in Nigeria and their families and in turn, their communities," Carter explained. "[The children's] brighter future will have a multiplier effect in their communities."
"
BIZAA targets and chooses one child at a time to fully educate them, clothe them and support them. It prevents them from going back into that poverty cycle."
— Cleo Haugen
With demand for products increasing, people in Africa look to children to do the labor since traffickers can use them for work but do not need to pay them. Providing education to these kids will give them an alternative to the harsh lives in poverty that they have led. The children will be able to find real jobs and afford to live a satisfactory lifestyle.
"A lot of these children are treated as objects and they are a way for big cash crop farmers and companies to make money. People sell these children to other places so they can be servants, slaves, or workers without pay," junior Cleo Haugen said. "BIZAA targets and chooses one child at a time to fully educate them, clothe them and support them. It prevents them from going back into that poverty cycle."
BIZAA's first meeting had a successful turn out of about 45 students. Students found that BIZAA is an easy opportunity to get involved but it has a big impact on the lives of people in need all the way across the world.
"[BIZAA] is a good thing to do and the outcome is very rewarding. Everyone can join together and help. A lot of people don't realize that not everyone has a very easy life. They have to work hard just to stay alive," junior Jaxon Leverty explained.
The club will be affecting people on both sides of the earth. BIZAA brings people together for the common good, whether that be people sponsoring children or children actually being educated. BIZAA has the ability to educate people in our community about issues that happen everyday in the world.
"Anyone should join BIZAA if you have the incentive to help people and this is a great outlet to be able to do something like that. We take anyone. It doesn't matter who you are or what you stand for as long as you are a human being and you want to help other human beings," junior Abdul Mohamed said.
About the Writer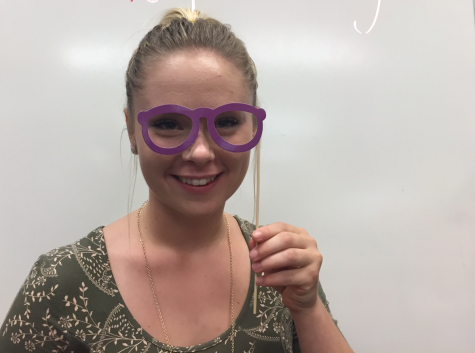 Evelyn Young, Playlist Reporter
Evelyn Young, junior, is a playlist reporter for the Pony Express. Her traditional story department is News & Activities. Outside of school, she enjoys...