Annual winter concert brings chills, in a good way
Mackenzie Bottolfson and Kyah LeBancz
The winter concert on Dec. 21 and 22 was Stillwater Area High School's annual concert of holiday music and entertainment. Six ensembles performed. Three of the six are prestigious "Concert" groups (Orchestra, Band and Choir) and the remaining three are the music programs' after school ensembles.
"So much dedication from every member of each ensemble is summed up so beautifully in a concert," said senior Megan Ellison, president and member of Concert Choir, president and member of Vagabonds, Concert Orchestra and Con Amici.
Concert Orchestra, Wind Symphony (a "band" ensemble) and Choir performed intermittently along with the "after school" Con Amici (string orchestra), Jazz Band and Vagabonds (choir) ensembles. Both shows sold out within two weeks of tickets going on sale. The highly anticipated concert was awaited by listeners and fans along with the performers themselves.
"
So much dedication from every member of each ensemble is summed up so beautifully in a concert."
— Megan Ellison
"Everyone was just having a bunch of fun [performing] and it showed not only within us, but in the audience's reaction too," said junior Jonathan Luk, Concert Orchestra, Con Amici and Concert Choir member.
The Winter Concert occurred about four weeks after most groups' fall concert(s). It was challenging for all of the ensembles to prepare music, especially at the high quality level most expect, in such a short amount of time.
"The work that goes into this performance is tremendous and probably the most out of any other performance of the year," said Luk.
Senior Brady Nahkala, president and section leader in Concert Orchestra and Con Amici added, "Most groups only had about 4 weeks to prepare their new winter music and there's a lot of logistics involved [with preparing a concert]."
The groups came together and produced quality music in the almost three hour extravaganza. Concert Orchestra's performance in particular received a standing ovation after withholding applause for their 20 minute-long performance of Tchaikovsky's Nutcracker Suite.
Luk said, "When we finished playing Nutcracker, I almost broke down in tears. Everyone just played in the moment… the deck was really stacked for the Orchestra's performance."
Nahkala added, "Some claimed this was one of the best winter orchestral performances they've heard at Stillwater. There were a lot of good comments from community members claiming it sounded professional."
This concert is a big, highly anticipated concert of the regular performing year. The seniors in the ensembles had a hard time adjusting to one of their last big concert. After the last performance on Monday, tears and embraces were shared among members of the ensembles.
"I have a hard time not being biased toward this concert as it showcases everything that I love to do. Now, as a senior, knowing it was my last shot at it, I know that I really poured my soul into everything that I sang and played. I feel that, especially in this concert, we are all a part of something so much greater than we know, because it will keep going for so much longer. We are so lucky," said Ellison.
The music prepared and performed not only included holiday music; but contemporary and classical music as well. Jazz Band, for example, perform a lot of improvisation and less structured music. Concert Choir and Vagabonds perform pieces written by Dr. Erik Christiansen (their conductor's) father and grandfather. The classic holiday music most all groups performed was prepared in different ways with mended lines and variability for an eclectic performance.
The variety and top-notch music performed by all of the ensembles made for a night of singing, swaying and smiles. The music made for a consistently entertaining two days that will be forever etched in the minds of music listeners and performers.
Ellison said, "I am consistently stunned by what our fantastic program cranks out for this concert specifically. Our music program never ceases to amaze me. I am so humbled to be a part of it."
About the Contributor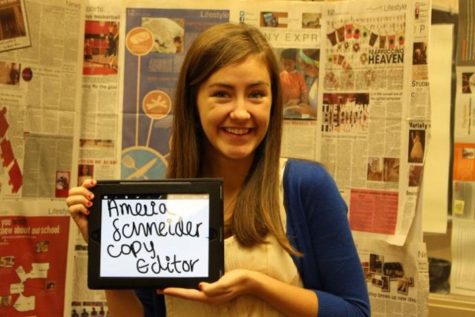 Amelia Schneider, Copy Editor
Amelia spends a lot of her free time reading and spending time with her friends. She works as a barista at Caribou Coffee. She participates in drama and...