STEM/Fab Lab provides hands-on learning opportunities
Megan McGuire and Taylor Haberman
With the ever-changing technology of today's world, the demand for science, technology, engineering and math (STEM) jobs is on a sharp incline. The district is now able to provide experience in these fields for the community and students using a new STEM/Fab Lab.
The Partnership Plan has granted the school district the ability to build a STEM/fabrication lab in the industrial technology area at the high school. This lab will open opportunities to the community and teachers to provide hands on learning. These labs allow students to apply what they have learned in class, for example, art students can design and build sculptures using 3-D printers. The STEM/Fab Lab will include laser engravers and cutters, 3-D scanners and printers and more.
Right now, the lab is only open to students but it is predicted to serve the community in years to come.
"It [the lab] will allow students to learn on industry standard equipment. They will be working with the same technology as in the real world," said Ryan Laager, Executive Director of Curriculum and Secondary Education. "It's looking at 21st century tools."
In order to create a product, students develop the desired prototype on a computer and, for simplicity's sake, design and produce it.
Laager said that the STEM/Fab Lab is "modernizing the milling experience."
Classes such as biotechnology and industrial technology will use this lab, along with other science classes.
"They [biotechnology] use a lot of new innovative technology to do research. The biotechnology class at the high school teaches us the skills we would need in a real biotechnology lab, so having new types of technology in a STEM lab at our school will help us learn with the most recent innovations and we will be more up to date," explained junior Margaret Eisenbrandt. She plans to go into the biotechnology field of work.
Eisenbrandt hopes that her biotechnology teacher, Staci Brown, will use this lab in the future.
"I think once it is established and our teacher, Ms. Brown, gets a feel for how we can apply it to our class I'm sure we will. I think it might take a bit, though, before we can use it because she would have to write out some new lesson plans," said Eisenbrandt.
Chanhassen, East Ridge, Mahtomedi and many more schools in Minnesota have these labs. Chanhassen is a newer school so the lab is in its own building and hosts the newest technology.
"Mahtomedi's lab is certified by MIT so it gets lots of hype," explained Laager.
East Ridge High School has a lab with similar technologies as Stillwater's future one.
"Our shops are extremely state of the art… The shops are used, but they are not used by a lot of people, rather, are used intensively by a small group," commented junior Alex Heide of East Ridge. He uses the lab at his own leisure and free time. "The shops allow us to learn things that are impossible to learn in the classroom, and only learnable through hands on experience. This country has a deficit of truly skilled and talented engineers and creators. Having the labs certainly helps get the few people interested more involved in engineering and makes them more passionate about what they are doing.
About the Contributor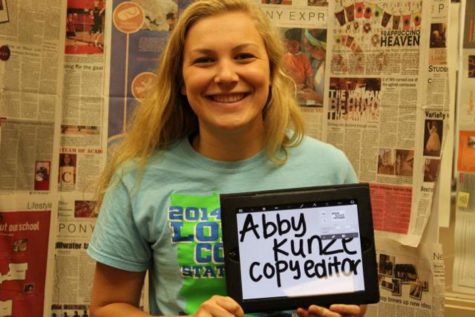 Abby Kunze, Copy Editor
Abby is a junior at SAHS. She is a very dedicated swimmer and a member of Youth United Way. In her free time, she is most likely reading or listening to...