Girls basketball team leads conference
The girls varsity basketball thrives in the new season, led by new head coach Tim Peper, the team currently holds a record of 19-3 as of Feb. 14. All grades are represented on the team this year, however, seniors make for the majority of grades represented.
Teamwork plays an important role in the dynamic of the team, many of the girls have played together for years and have strong relationships on and off the court. Close friendships amongst the team help the girls to recognize each other's strengths and adapt to their needs.
The girls all played together for a while so "we have really good chemistry and we all have shared experiences which helps us know how to adapt to each other's needs if we have a teammate who does really well at something and we know she likes to be called out for doing well at something then we'll do that," senior Lizzie Holder said. 
Following the resignation of previous head coach Willie Taylor, Peper has stepped into the role. Although he is new to being the head coach many of the girls had known him previously through his coaching at AAU, camps and the girl's B team.
Senior Katie Hardtke explained Peper has been around with the team, he has coached camps, he has coached girls AAU and he coached B squad when Willie Taylor was a coach. The girls have been around him, but have not played for him as the head coach.
Stillwater currently leads the Suburban East Conference in wins, and with sections coming up March 2, the team could have a shot at going to state. State will be held this year Mar. 16-19 at Williams Arena, Maturi Pavilion, and Concordia University.
"The season has gone great and I am proud of what the girls have accomplished up to this point with all of their hard work and dedication. We choose to not look down the road at the destination but instead want to enjoy every practice, game, team get together and be the very best we can be that day," Peper said.
Many of the seniors on the team have played together since freshman year, so as their final season comes to a close, bittersweet moments are shared across the team. A majority of the seniors will continue playing basketball in college.
"I haven't come to terms with it yet. I'm coming to realize that we have like two months left. Especially being on the team for years, it's just kind of like my routine. It's kind of like what I do, I go to school, go to practice, have games and stuff, but, I don't know it's just gonna be a big change. I've known these girls for, basically all of high school, which makes it a lot different and you kind of grow up together in a way," Hardtke said.
"The girls understand that by working together it makes us so much stronger as a team and they take pride and joy in celebrating the success of others on the team. . .we feel as if we focus on doing the very best we can then we are going to be able to do great things," Peper concluded.
View Comments (4)
About the Contributor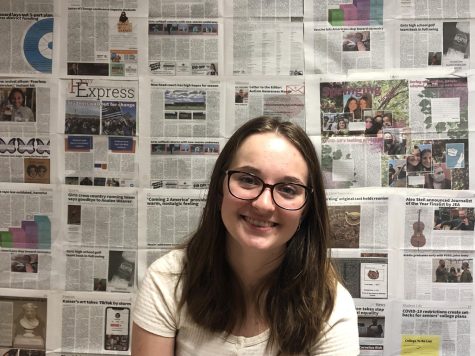 Nissa Wilcox, Layout Editor In Chief
Hi, My name is Nissa Wilcox and I am a senior layout editor in chief this year. I am on the high school swim and dive team and the high school synchronized...