Bennett Schoenborn's passion for art keeps positive during Covid-19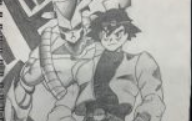 There has been a study on how passion relates to psychological well being, and how that boosts mental health. Senior Bennett Schoenborn had found his passion long before the pandemic, and he continued to keep up with it because it's something he is passionate about.
"Passion to me is striving to improve on what you really enjoy and always trying to explore the limits of what can be done. I've always been a very creative person, so art became a way for me to put my creativity on paper and let others see what I like to create," Schoenborn said.
It's no doubt Schoenborn has a passion for art, specifically his favorite artwork he has done was a mix of his two favorite TV shows. 
Schoenborn said, "I've gotten inspiration from many sources but recently it's been more from media such as anime or video games, books as well. Mostly since being cooped inside there's not a lot to do otherwise."
It's really important to stay positive when Covid-19 has given people many reasons to be negative. Having a good mindset can help people accomplish more. Finding a hobby is a great way to stay positive and continuing that hobby is what will help your mental health. Being creative and putting that creativity into something when one is feeling down will help boost happiness and mental health.
A good way to keep positive until this pandemic is over, is finding something you like and are good at, and continuing to do that activity to help boost your happiness and positivity. "I think we are all born with God given gifts that help us understand our purpose in life. Bennett's gift is art. Passion is about using those gifts to make the world a better place," Bennett's mom, Kristin Schoenborn said.
"We are very proud of our creative kid and are excited to see what his future brings!" Kristin  said.
Bennett's family is proud and supportive of his art and wherever it takes him. He shows a lot of talent and a possibility for a future career with it. Bennett is successful because he is so creative and willing to try new things. It'll give him the space he needs to show his talent and do many great things.
"I think no matter what I end up doing there will be art involved. Currently after high school I'll be going to UW-Stout for a Bachelors of fine arts, in Game Arts, " Schoenborn said.
About the Writer
Leigha Kraft, Photography Editor
My name is Leigha Kraft, I'm in 11th grade, and I am a photographer. I am synchronized swimming, I like to draw/paint, swim, take photos, playing with...