Covid restrictions create setbacks for seniors' college plans
Due to COVID-19, seniors are behind on important steps on the college application process like touring colleges and taking the ACT. Seniors have deadlines to meet, and with these setbacks, it is harder to complete them in a timely manner. 
Senior Ava Nyberg explained that there is definitely stress for seniors because many of them are behind on the process due to the ACT being postponed many times and their junior year was moved to online, meaning they do not have the strongest transcripts to send in. There are also deadlines to meet, and being this is the first time she will take the ACT  in October, she does not have much time to retake it, in order to improve her score for the chance for scholarships.
Covid has created barriers within the college application process. Usually, students tend to take the ACT in the spring, allowing time to retake and improve a score to meet college deadlines. When Gov. Walz extended the stay-at-home order, ACT dates were cancelled state-wide.
The ACT is an important factor on an application, but the students also have to reach a deadline on when they can submit the application. Due to the ACT being postponed until the fall, seniors do not have as long to retake and improve the score like others have in the past years. Some colleges are being lenient and turning to a test-optional route.
"Many schools will still accept scores, but it is a student's choice whether or not to include them.  In a situation like this I would encourage a student to test and submit their scores. Some schools will allow students to apply without scores and indicate that they plan to send scores later, still meeting the application deadline," school counselor Becky Hopper explained.
"
Do your research, meet your deadlines, and trust the process. There are many people and programs available to help support this process."
— School counselor Becky Hopper
A handful of universities are taking note of seniors setbacks with the ACT, now leading to the test-optional route. The test-optional route is to ease the stress on the applicants and focus on other factors like GPA and extracurriculars. Some students test-scores do not reflect how they are as a student, but for some they need a test score to enhance their application. Students are debating whether it is worth taking the ACT due to having colleges being test-optional.
"I have not taken the ACT, the colleges I am looking at are going test-optional, which helps a lot in my situation. However, my grades and extracurriculars have met the requirements for the schools I would like to apply to, but having the ACT score that I would like to have to represent myself, would benefit me," Nyberg added.
Along with the ACT being postponed creating an application setback, in-person tours are adding to the stress as well. A college visit is an important part of the decision making process. However, only a few colleges are accepting in-person tours and some are guided through a cellular device. Colleges are trying to connect with students via Zoom, which is different from an in-person atmosphere. Seeing the atmosphere at a college could be a deciding factor and most classes are moved to online at universities. Students may want to go far for college but the travel may be difficult with Covid restrictions meaning they may not even be able to step foot on the campus.
"Not being able to have in-person tours is a huge set back, although I was given the chance to tour some colleges when my older sister did, many schools have improved since then and I won't be able to experience that. Since I am not able to see where I feel the sense of  home and the connection I want to feel, while being on a campus, many of us may just have to travel in order to see some parts of campus," Nyberg explained.
In addition to restrictions of college touring and ACT,  students are also concerned about how colleges will be structured next fall. The unknown is a question for most students. The debate whether they should even apply this fall or decide to take a gap year until they have reassurance when normal classroom instruction occurs.
Senior Alex Pagnucco explained not knowing what to expect right now for what college will be like stresses him out. He does not know when he will be accepted, if he can go to the actual campus in the fall or if it will be fully online next year.
"Do your research, meet your deadlines, and trust the process. There are many people and programs available to help support this process," Hopper added.
About the Contributor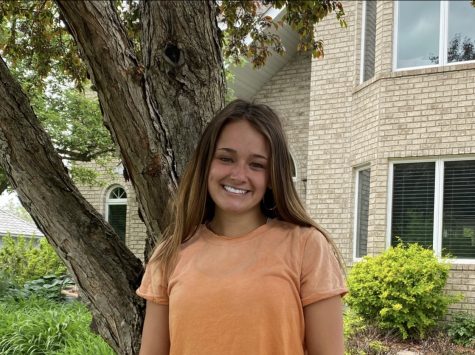 Ella Gag, Social Media Editor-in-Chief
Hi my name is Ella Gag and I am a senior editor in chief of social media for the Pony Express this year. I am a captain for the 2020 Stillwater cross country...