Cancer survivor Danny Valerius heads back to school, participates in unlimited shopping spree
Ella Gag, Social Media Editor
October 22, 2019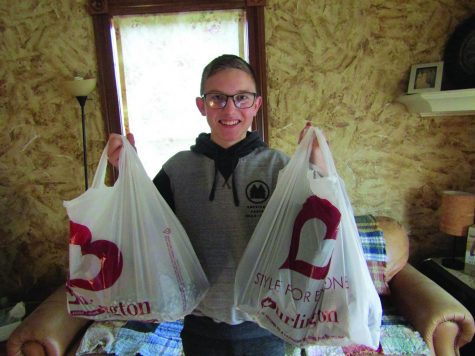 "He's one of the most positive and heartwarming people I've ever met," sophomore CeCe DeLeon said about sophomore Danny Valerius. Valerius entered remission after being diagnosed with t-cell acute lymphoblastic leukemia, a blood cancer, when he was 12. 
"Before I was diagnosed, I noticed these spots on my head and I was super tired. The news devastated my family and I went into the hospital right away," Valerius said.
Valerius is excited to go back to school and be back to a normal life with his friends. Celebrating remission, The Leukemia & Lymphoma Society and Burlington stores gave Valerius an unlimited shopping spree Oct. 21. 
"
"I thought more to cherish life and live more with the purpose because of him""
— Reid Schlosser
T-cell acute lymphoblastic leukemia acts aggressively and spreads rapidly and affecting lymphoid-cell-producing stem cells. Therefore, it can not be left untreated. Valerius has undergone chemotherapy and spent many hospital nights healing and recovering at a young age.
Valerius said chemotherapy was tough, there were many hospital nights the first year. 
Valerius is able to attend school cancer-free. Approximately one in 1000 children will be diagnosed with leukemia by the age of 19. Few kids have had to go through what Valerius has, but he endured and has turned his sickness into a positive. He has made an impact on many of his friends and family through his attitude and fighting spirit after being diagnosed with leukemia.
"I thought more to cherish life and live more with the purpose because of him," senior Reid Schlosser family friend of Valerius said.
Community support can really do a lot for a situation like this one.  Knowing that people have his back can turn a negative into a positive, which Valerius' community has done. Before he began his treatment two years ago, members of his school community shaved their heads in honor of him. Such examples can show the impact people can have on a person who is undergoing cancer treatment.
"I've learned don't underestimate the power of your community because it's really powerful people that you don't even know will reach out and help you and Stillwater is just a great place for that," Valerius explained. 
The Leukemia and Lymphoma Society aims to cure leukemia & lymphoma and they also work to improve the lives of patients' and families. They found Valerius' story especially inspiring and surprised him with an unlimited shopping spree at Burlington's to celebrate his remission.
"I think that was awesome for him to let him take his mind off of the disease he had for awhile and let him not feel like a kid, but feel like he had freedom again for a little bit," Schlosser added.
"It's been so great to see him recover and do everything he's doing now, because now he's in high school and he's thriving like everybody else," DeLeon said.