Feminism club resumes to promote equality
When the Feminism Club opened for students in the 2016-2017 school year, leaders were excited and ready for any and all activities planned for the students interested in the club. However, dissension and disagreements on what the club meant and what it should do caused the leaders to shut the club down.
Now, seniors Erica Lemke, Bakange Ajak and Adam Johnson are ready and organized to welcome students back into the brand new Feminism Club with one clear message: equality. The club is open to all students no matter their gender, race or age, and they encourage everyone who is curious or interested to join the club.
"It doesn't matter what level you're at with feminism," Lemke said. "You don't have to be super in the now to join, you just have to believe in equal rights."
Everyone is welcome to come and learn about feminism, and discuss what feminism means to them. Through this club people of all different backgrounds can come together and educate each other and themselves on topics that are relevant to everyone in the case for equal rights.
"I considered myself a feminist before and I just consider it a space where I could get together with others and have good discussions," sophomore Amy McElin said.
Students joining together to create a space that is safe for all students to learn about feminism is not something that is solely at Stillwater Area High School. All across the U.S. students are forming different variations of Feminism Clubs to preach equality and inclusion for all.
"A big inspiration [for starting the club] was the MeToo movement and all the publicity feminism got from that, and I thought it would be a lot more relatable to people to see all these famous people coming forward and say that there still is discrimination," Lemke said.
"
I considered myself a feminist before and I just consider it a space where I could get together with others and have good discussions."
— Amy McElin
By including everyone into their club the place really is a safe space to ensure that all students are treated equally. With a strong new leadership the club meets in social studies teacher Jerry Washburn's room, D130, every Thursday morning at 7:10 a.m.
The club works to strengthen the relationship with people and their definition of feminism any way they can, including engaging in conversation about what feminism looks like and means to them, and watching documentaries about important feminist movements throughout history. The club is working to empower students in their lives and make sure everyone knows that they are entitled to equal rights. The club started later in the year than most, but they are still prepared to have a great year.
About the Writer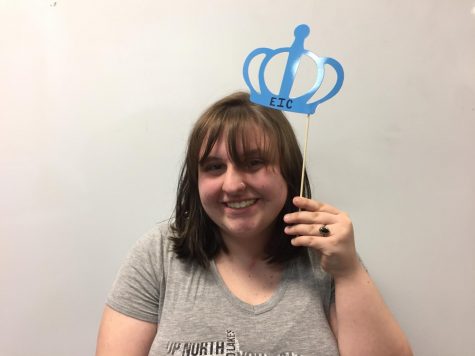 Linnea Phillips, Print Editor-In-Chief
Linnea Phillips is a senior, and a Print Editor-in-Chief. She enjoys writing and spending time with friends and family and partaking in many clubs such...