Student Nutrition Advisory Council plans for healthier future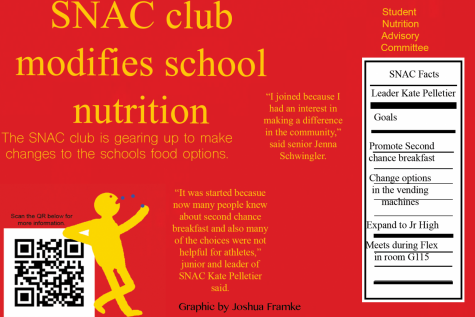 A majority of the options in the vending machines are unhealthy. Filled with Mountain Dew kickstart and pop, healthier options like chocolate milk are rarely seen in stock. The Student Nutrition Advisory Council is here to help make the school a healthy place, and help guide students towards healthier options.
The Student Nutrition Advisory Council, or SNAC, is a student-centered group that was founded to help students look for ways to make healthy choices in school and outside of school. Another goal of the SNAC is to provide healthy snacking and lunch opportunities around the school.
SNAC advisor Darrell Salmi describes the group as, "a healthy, proactive approach to nutrition." Also, Salmi emphasizes that the group is, "student-centered. Nobody really wants to be told how to do things or what they should eat or shouldn't eat.  The reality is our students are really smart people and they can help to make decisions and guide the process of providing healthy snacking opportunities throughout the school."
Allowing the group to be student-centered makes it easy for smart students to take the matter into their own hands if they want to truly benefit themselves and improve. The group can help teach proper nutritional practices such as drinking enough water to stay hydrated. From there, it is up to the students to implement the things they have learned into their daily life.
The group has multiple student leaders. The "ambassadors" of SNAC are seniors Emma Salmi, Jenna Schwingler, Andrew Wilcek, Matt Crowell and juniors Kate Pelletier and Will Gleason.  
"
I thought it was a great idea to get involved and help out the school obviously, because I think it's one of our problems."
— Andrew Wilcek
Wilcek is a strong believer in helping improve the schools nutrition.  "I thought it was a great idea to get involved and help out the school obviously, because I think it's one of our problems," Wilcek.
Wilcek has known Salmi since seventh grade. Also, he was drawn to the group because he was friends with the son of the school nutritionist, Susan Crowell. After joining the group, he was elected as a captain.
Right now to help improve the food options at school, the group has implemented the second chance breakfast program. Wilcek explained, "Second chance breakfast is between first and second hour and it's like if you didn't get a breakfast, you type in your lunch pin and everything. There's like parfaits, fruit, snacks, stuff like that."
Studies have shown that there is a direct correlation between proper nutrition and school performance. According to The Food Research and Action Center, students who eat a full nutritional breakfast in the morning have shown that they work faster and make fewer errors compared to students who do not.
To promote SNAC, advisors Salmi and health teacher Ryan Bartosiewski are working alongside with the students to make a promotional video. The plan is to show the school the video to help gain awareness to the group. The video will be high quality because as Wilcek explains, "We are actually partnering with Power Up, so they are helping involved and helping us with the video with like ideas and editing and stuff."
At this point, the group is made up of mostly juniors and seniors. The goal of this promotional campaign is to help attract more underclassmen to get involved with SNAC and ultimately grow the group so it can become a more widespread club at the school to be able to help make it a healthier place for all.
"It doesn't just have to be for athletes, we want to help everybody," Wileck said.
About the Writer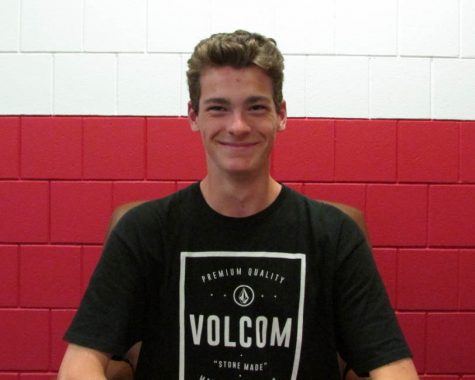 Jameson Stahl, Editor-in-Chief
Jameson Stahl is an Online Editor-in-Chief for the Pony Express newspaper. Outside of school he plays lacrosse for the high school and for the Minnesota...