EIC Column: non-athletes lettering in athletics, huge step forward
Varsity athletes have to have dedication, work ethic and sportsmanship to succeed in their sport. But not all students who letter in varsity sports even play the sports they letter in. Many students are turning to the alternative of volunteering with a team in a management position or assisting position to help out and letter in that specific sport. This is a viable option for students to letter in sports they do not necessarily play.
Many students do not have the option to play some sports for many different reasons. This option gives them an opportunity to be a part of the team and help out in a sport that they choose.
"
I really just wanted to be able to help out in any way that I could."
— Katie Kelzenberg
Senior Katie Kelzenberg and her friend senior Andria Barrett both lettered in varsity football this year for being water-girls. They were in charge of getting water for the players on the team and ensuring that all of the little odds and ends needed by the players were present and accounted for. Throughout the season it was up to the girls to ensure that non of the team members became dehydrated. The team was appreciative of the girls help and honored them at the banquet with a thank you card as well as their letter patches.
"I really just wanted to be able to help out in any way that I could," Kelzenberg said. She and Barrett were excited to help with the team and just wanted to lend a helping hand.
The girls, though they were not players, spent as much time after school for this activity as the students out on the field did. Given that these girls spent just as much time committed to the sport during the season as the players did, it only makes sense that they should have as much of an opportunity to letter in the activity as the boys. They spent nearly every afternoon working to help the team and gave up their Friday nights to go to games and help there too.
"It was everyday after-school for like all of September, October and part of November. Plus games," Barrett said.
Both Kelzenberg and Barrett had a fun time working with the team and had originally decided to become the water-girls for the football team just for a fun activity they could do together. Neither of the girls knew at the time that they would have the opportunity to letter for this activity. They donated their time and help because they both had coach LaBore for U.S. history and wanted to lend a hand. When they found out they were receiving a letter award for their work with the team they were both shocked and excited.
"It was just like a fun surprise," Barrett said. The girls were honored at the football banquet in November for their hard work for the team. The players and coaches gave them a card to thank them for their dedication during the season.
Some think the only people who should be able to letter in a sport are the students who are playing it as they are the ones truly putting in the most amount of dedication and time into the sport. However, if someone such as a manage or other type of team helper puts in just as much time and dedication to the team, they should have just as much opportunity as everybody else. While it is true that the students playing the sport may be putting in a touch more blood, sweat, and tears into the sport the managers are putting in just as much time, and perhaps a different type of dedication yes, but dedication all the same.
Allowing students who participate in sports in a nontraditional way to be able to letter in sports is a major step forward. It opens the door for the people behind the scenes to have the recognition they deserve for putting their time and effort into an activity or sport.
About the Writer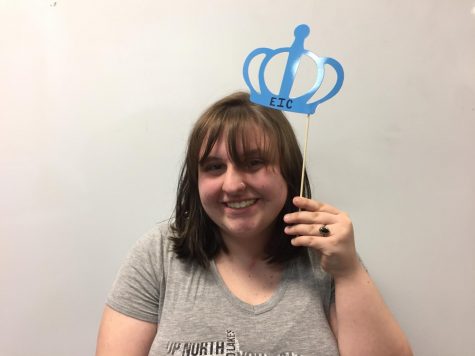 Linnea Phillips, Print Editor-In-Chief
Linnea Phillips is a senior, and a Print Editor-in-Chief. She enjoys writing and spending time with friends and family and partaking in many clubs such...