Another holiday, another famous 'Nutcracker' production
For 27 years and counting, the St. Croix Ballet is putting on another year of the classical Nutcracker ballet. The ballerinas range in age from three years old to seniors in high school, but adults are also on stage as extras.
"You don't really need to have much talent, but you just have to have the ability to actually partake and not get too nervous or wound up about it," junior Meghan Junker said.
The Nutcracker is a tradition for many to watch around the holiday season. It tells the story of a young German girl's dreams about a Nutcracker Prince on Christmas Eve. Originally the story was written by E.T.A. Hoffman and was adapted by Alexandre Dumas Peres. It is choreographed to the music of Russian composer Pyotr Ilyich Tchaikovsky. The ballet is usually between 1:40 and 2 hours in length, according to ballethub.com.  
Dancers put in all they have to practice and prepare for the opening weekend that takes place in late November. Practicing for the fall ballet starts in early September, and practice is held from around 7am to 12am. for high schoolers, and the children practice later in the day. All ages and levels of talent gather to be apart of this opportunity.
Heidi Franke, mom of senior Rebecca Franke said, "I am nervous for my daughter before she performs, but I am also very excited. I love watching Rebecca dance."
"
I love all of the parts so much. Jester or Snow were so great even though I was them so long ago. Otherwise, I was Clara a couple of years ago and that was amazing."
— Rebecca Franke
Although there are little changes in the Nutcracker every year like costumes or small choreography, the story has remained a constant throughout the 27 years of production. The older dancers typically play the more major roles like Clara or Cavalier. First level students or young kids play roles like Winter Fairies or Gigionnes.
"It's a really nice atmosphere and it is so worth the hard work for a fun weekend," senior Rebecca Franke said. The play has been known to sell out before the production and the seats fill up quickly in the auditorium with around 500 people.
The St. Croix Ballet is a year long program that contains two programs: the Nutcracker and a spring show that changes every year. The company was founded in 1991 by Karla Sweeney and although she passed away in 2015, her legacy continues in the dancers and staff at S.C.B.
Franke, who has been a part of the Nutcracker since she started dancing at S.C.B. said, "I love all of the parts so much. Jester or Snow were so great even though I was them so long ago. Otherwise, I was Clara a couple of years ago and that was amazing."
St. Croix Ballet is a place where kids and teenagers go to appreciate dance, and learn to further themselves. They learn to step out of their comfort zone in a safe environment, while learning to appreciate the classics. They are a local dance studio that has become known as one of the best in the Metro area. S.C.B. has been going strong since 1991 and will continue to put on performances like the Nutcracker for years to come.
"Even though there have been changes, the beauty of the dancers and the magic of the Nutcracker stays the same." Heidi Franke said.
About the Writer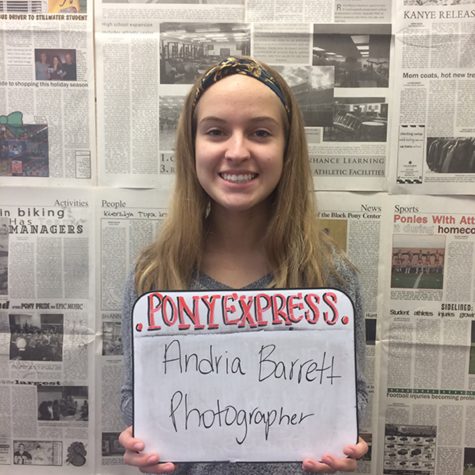 Andria Barrett, Photography Editor
Andria Barrett enjoys hiking and all things outdoors with her friends and family. She has two dogs and one brother that live with her in Afton. In her...