Spanish students journey to Central America
A select group of Spanish students will say "adios" to Stillwater and travel to Guatemala and Belize this summer. From June 6 to June 16, 72 students will have the opportunity to explore Spanish speaking culture, further their language knowledge and gainn experiences of a lifetime.
Students will start in the small town of Antigua located in the southern part of Guatamala where they will get the chance to hike up an active volcano, zip line through the rainforest and learn to salsa dance. They will travel to Tikal in the northern part of Guatemala where students will explore Mayan ruins, go snorkeling in Belize and volunteer at a government run day care.
"I'm really looking forward to spending the trip with my classmates before we go off to college. The experiences we are going to have is something I will never forget. I'm super excited for everything we get to do especially seeing the ruins at Tikal," senior Cela Peterson said.
"
Not only will this trip be an experience of a lifetime, but it will also help me grow in my ability to speak the language, which will benefit me next year. "
— Kyle Alavarez
There is a learning component to the trip as well. Students will be attending Spanish classes with native teachers and staying with host families where they will have to use the Spanish skills they learned throughout the years to communicate.
"I'm really excited to stay with a host family and experience a different lifestyle, but I'm a little nervous about communicating with people who speak only Spanish," Peterson said.
All Spanish teachers in the Stillwater district were offered the opportunity to go and help chaperone the trip due to the overwhelming turnout of over 70 students.
Spanish teacher Kirsten Carter said she was "absolutely shocked" by the large turnout of students. "We have never had this type of interest in a Spanish trip. Most of the time we take between 12 to 20 kids and the interest in this blew us away," Carter said.
Some students are planning to further their Spanish career in college and are going on the trip not only for the fun excursions, but to really experience and immerse themselves in the Spanish culture, preparing and furthering their Spanish skills for next year. Others are hoping to travel abroad sometime in their lives and this trip is giving them an opportunity to see what living in a Central American, Spanish speaking country would be like.
"I'm planning on taking an introductory Spanish class in college so I can hopefully minor in Spanish," senior Kyle Alavarez said. "Not only will this trip be an experience of a lifetime, but it will also help me grow in my ability to speak the language, which will benefit me next year. I also plan on traveling abroad so hopefully this trip will give me a small glimpse of what that will be like."
Spanish trips like this do not happen every year. Students are very fortunate to have the opportunity to experience these cherishable moments and get a real life, first hand experience with natives from another country.
"I love the moment when students say goodbye to their host families and you can see how they bonded in such a short period of time," Carter said.
Both Spanish teachers and students are excited and ready to go on the 10 day trip of a lifetime to Guatemala and Belize.
"Travel opens people's eyes and gives them new perspectives. For students to be able to have real experiences with language, culture and people, it will impact their outlook for probably the rest of their life. Hopefully, they will become life long loyal travelers," Carter said.
About the Contributor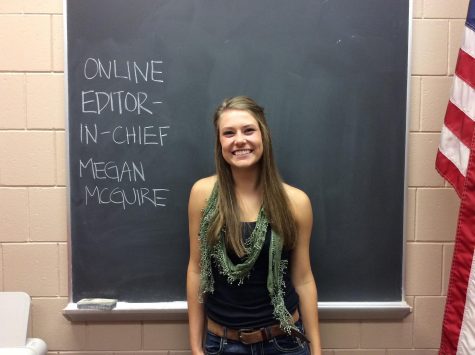 Megan McGuire, Online Editor-in-Chief
Megan McGuire is a 2016 graduate at Stillwater Area High School. She plays lacrosse and loves watching hockey. Enjoys fishing and anything dealing with...