Winter concert brings holiday cheer
Bringing music together and captivating audiences is something Stillwater Area High School is becoming known for with the award-winning high school music department. The Winter Concert is a music department tradition bringing together the Orchestra, band and choir for a holiday cheer masterpiece.
The concert took place on Dec. 19 and 20, with three performances total.  This year the production was conducted by new and old teachers; Zach Sawyer (Orchestra), Dennis Lindsay (Band) and Erik Christensen (Choir). The winter concert ended up adding an extra show due to the quick sell out and wish for tickets. The evening was filled with professional sounding performances that featured the musical talent of students, ranging from sophomores to seniors.
In order to create the highly anticipated and raved Winter Concert, specific and interesting music must be chosen for each of the departments to showcase their students talent, and bring new and original sounds to the performance.
"When I choose music, I try to find music that the students have never played before and will be excited about playing.  It's also important to find music that will challenge the orchestra in new ways," Sawyer said, who is a new orchestra teacher to the program this year.
To bring together the winter concert it requires an extreme amount of dedication from each and every student involved. From learning and mastering their own part to becoming comfortable, they had only about a month to prepare for the famous annual event.
"We didn't have any extra rehearsal time outside of our normal rehearsals.  What it did take was a lot of hard work from the students – we had approximately one month to prepare for this concert, which is half of the time we normally have to prepare for a performance.  The students rose to the challenge and I think anyone who was at the concert would agree that they pulled it off," Sawyer stated.
Along with the communities excitement to see what the concert has to bring each year, the students involved find extreme joy in getting to participate with their friends and sing for the holiday season.
"
Band is a fun and unique way to express yourself. Every type of music has a different mood and feel to it and I love getting into that particular mood when you are playing. "
— Claire Patterson
"My favorite part about the Winter Concerts is the excitement on the part of both the choir and the audience. We often get quite a few alumnis in the audience, and it's always fun to see former choir members and hear what they think of our progress. The members of the community also get hyped about this concert, so the energy of the Winter Concert audience is always exciting," senior Kate Kugler said. Kugler is this year's President of the Stillwater Choir.
The Winter Concert not only features the Music Department as a whole but can give students moments to shine and showcase their talent. Students like Kugler who receives a solo within the performance.
"It was really rewarding getting to sing the solo at the concert. The choir and the audience is always very supportive and I'm truly appreciative to have had the experience," Kugler stated.
Many students involved in the Winter Concert are featured in more than just one element. Students like Sophie Vogel, a sophomore, have to dedicate even more time to participate in multiple elements of the Music Department.
"As a student, lots of focus is required to be prepared for the winter concert. In order to be able to perform in both the choir and the orchestra, I take online classes. I am currently enrolled in online health and online world history. Yes, this is a ton of work, but it is totally worth it," Vogel said.
Each and every student involved in Winter Concert understands the tradition and value of it. The Winter Concert is becoming a big part of the Stillwater culture, which is apparent in the quick sell out. From students who have been a part of it since sophomore year to their very first year, everyone involved realizes the significance of the tradition they are now a part of.
"Words cannot describe how grateful and happy I am to be in choir. It is a great experience and I've never encountered one like it or a teacher like Doc! Since it was my first and last winter concert it was really special," senior Matt Crea said.
The students not only work within their class hours, but must find time before or after school to meet their fullest potential. Whether it is waking up at the crack of dawn or staying a few extra hours, students within the Music Department are willing to put whatever it takes into it to perform at their best and do what they love.
"Band is a fun and unique way to express yourself. Every type of music has a different mood and feel to it and I love getting into that particular mood when you are playing. It was an amazing feeling to know that the work we were putting in was worth it and once again it reassured us that we are a part of an amazing musical program at Stillwater." junior Claire Patterson stated. Patterson is a part of the Wind Symphony and plays the French Horn.
The Stillwater Music Department standard is one with a high reputation. People go expecting something new and exciting. Each year the expectations are raised and met. Whether it is an audience member's first Winter Concert experience or a long-time tradition, the audience is always left impressed with the quality from high school students.
"When I arrived in Stillwater, it was immediately apparent that both the school and the community take great pride in the music department," Sawyer explained, "The orchestra program provides students with the opportunity to engage in extremely high-level music making.  The orchestra is at or near the level of some college orchestras.  Music provides students an opportunity to express themselves and participate in a unique cultural experience."
About the Writer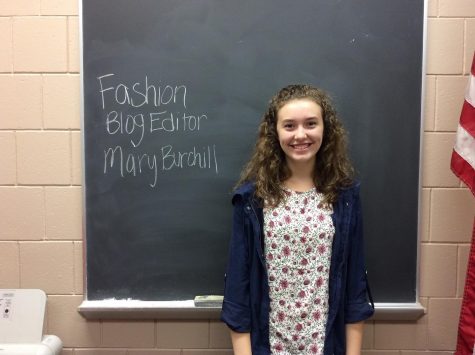 Mary Burchill, Fashion Blog Editor
Mary Burchill is a 16-year-old junior at Stillwater Area High School. She is a Fashion Blogger for the Pony Express. She likes to preform in shows around...