Zach Sawyer conducts first orchestra concert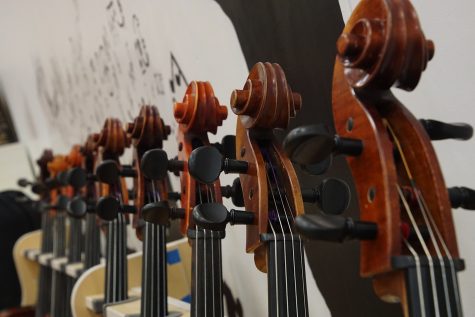 As the orchestra students walked on stage for the first time on Nov. 12, they were nervous. For some it was their first time playing on this stage. But this was also the first time Zach Sawyer has conducted his own orchestra. Not just one orchestra either, he conducted three orchestras and also got to watch his after school orchestra he helps teach.
"I've played hundreds of orchestra concerts as a bass player, but conducting an entire concert for the first time was exhilarating in a totally different way. The energy of 60 students on stage all playing perfectly together as an ensemble is incredible," Sawyer said.
This was a very important concert for everyone involved. For some students this was their first time performing for their parents in a high school orchestra which is a big step from the junior high. For others like senior Abby LeBlanc, member of Con Amici and Concert Orchestra, it was her first time getting a solo part. It was also very important to the new instructor Sawyer because it was his first time conducting his own orchestra.
When asked about"It was really interesting, it sunk in that I was a senior member of the orchestra and I actually got to have a solo part," LeBlanc said.
Each of the orchestras at the school played at the concert, which includes the Symphonic, Varsity, and Concert orchestra who meet and practice five times a week. The after school orchestra, Con Amici, also played and they practice two times a week. They always work hard to get ready for the concert, and when you hear them play that's very obvious. Stillwaters orchestras are known all over the state for going above and beyond others, getting gold awards wherever they go.
"
We're going to keep raising the bar for what a high school orchestra can accomplish!"
— Zach Sawyer
"All of the orchestras did very well.  I made recordings of our rehearsals the first week of school, and when I compared those recordings with the recordings from our concert, I was so proud of the progress all of the orchestra students have made since the beginning of the year," Sawyer said.
The concert was a great success for many reasons. Each of the orchestras did a tremendous job, playing each of their pieces the best they could and having fun with it.  Even with a lot of the senior members of the orchestra leaving, a new teacher, and this being their first concert of the year they did a great job. They also raised a lot of money for the music department by selling tickets to family and friends.
"I think all the orchestras played well, and i'm especially happy with Con Amici," Said Hannah Gilsdorf, member of Con Amici and Varsity Orchestra.
Its really an exciting experience to see some of the best high schools in the nation. The Orchestras winter concert is coming up on Sunday, Dec. 15, with even more exciting new music from both Band and Orchestra ensembles.
"We're going to keep raising the bar for what a high school orchestra can accomplish!" Sawyer said.
About the Contributor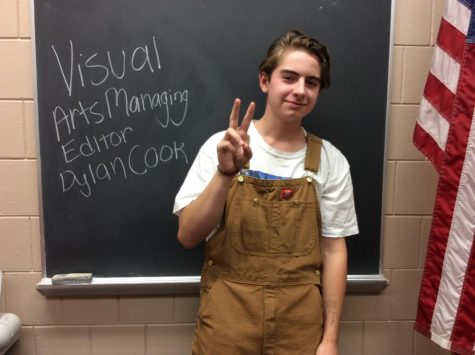 Dylan Cook, Visual Arts Managing Editor
Dylan Cook is a creative, outgoing, and outstanding sixteen year old student at Stillwater Area High School. Dylan enjoys photography, music, and snowboarding....