Girls lacrosse in the swing of things
Springtime and warmer weather make for a perfect combination as the season kicks off for the Stillwater Area High School girls lacrosse team. This year the team looks to be one of the best in the state again, headed by a total of 12 seniors, not to mention an extraordinary amount of talent coming from the underclassmen, all being lead by the three senior captains, Carter Sanderson, Anna Corman and Ashley Ludack.
Girls lacrosse consists of fast moving, high placed gameplay, minus some of the physical contact such as body checking one may find in a boys lacrosse game. A total of 12 girls per team are on the field at once.   Three midfielders, middies, four attacks, four defensemen and a goalie making for a total of 24 players total on the field.
"I play middie. We play the whole field and our job is to play both attack/solely offense and defense," said junior Maria Vitale.
With just three games in the books for both JV and varsity, the JV team is 3-0, the varsity is 2-1, and both squads look to keep those wins going for the remainder of the season. Finishing last season placing third in the state, the team plans to simply continue perfecting their skills.
"We pretty much have the same style and concept of play as last year, just working to improve and perfect our skills a little bit," said Vitale.
Not every team always has perfection when playing together. Lacrosse is a sport that requires many different fundamental skills and lots of conditioning in order to play to one's full potential, something that Coach Rick Reidt firmly believes in.
"I believe team success is directly related to mastering lacrosse fundamentals such as catching, passing and footwork skills.  We also value the importance of physical conditioning. Every day in practice we work hard on improving our fundamental skills and conditioning. Our team participates 30 minutes of yoga training one to two times per week.  We feel that yoga helps improve our physical condition and helps to develop our relaxation skills. Our team also participates in an in-season weight lifting program.  Our goal is to increase our strength over the course of the season," said Reidt.
This season the team has a very senior-heavy team, providing experience at a high level of play that some of the new or younger girls may not have at this point in the season. Returning 12 senior players, along with many very talented underclassmen, reaching the goal of becoming number one in state is very reasonable.
"With a lot of returning players it really benefits us because we are used to and comfortable play with each other. Our team has a lot of depth with skill because of so many returning players," said senior Ellie Anderson.
Reidt added, "Having seniors on our team provides many benefits for team success.  Our seniors provide the leadership need to guide our younger players.  They set a strong example for our team as they understand the importance that very hard work plays in team success. Our seniors, given their years of experience as team members, understand our core team values and philosophy.  The seniors use their knowledge and experience  to mentor our younger players."
The girls lacrosse team has a very promising season ahead of them and many fans should have many fun games to look forward to watching.
About the Writer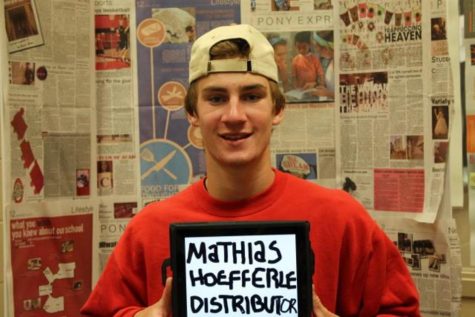 Mathias Hoefferle, Distribution
Mathias Hoefferle is a 16 year old boy who loves to do anything active. He plays hockey and football as school sports but loves to partake in pickup games...